FULMEN. Spiritual censorship and long-term government of the Christian tradition – 4th-21st centuries
Sections: Antiquity, Middle Ages, Modern and contemporary periods
Under the high scientific patronage and with the active participation d'Agostino Paravicini Bagliani (SISMEL, AIBL)
General manager: Julien Théry-Astruc, Lumière University of Lyon/CIHAM, UMR 5648
Director: Fabien Archambault, lecturer, University of Limoges/CRIHAM, EA 4270; Véronique Beaulande-Barraud, HDR lecturer, University of Reims/CERHIC, EA 2616; Irène Favier, lecturer, University of Grenoble Alpes/LARHRA, UMR 5190; Arnaud Fossier, lecturer University of Burgundy/Center Georges Chevrier, UMR 7366; Vincenzo Lavenia, lecturer, Università di Macerata, Dipartimento di scienze politiche; Benoît Schmitz, ATER, École normale supérieure de Paris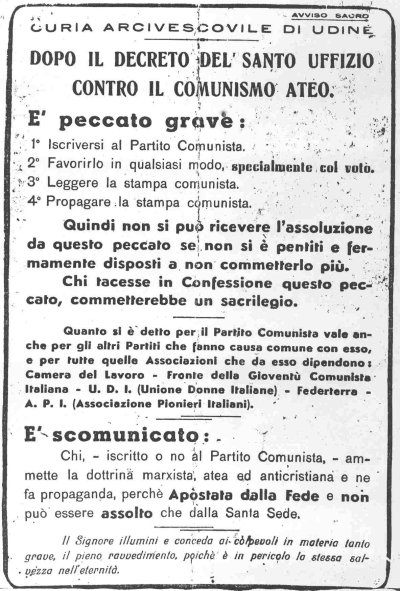 The practices of censorship or canonical sanction (excommunication, prohibition and suspension) in Christian societies have shown strong continuity since their origins, and even more so since their legalization in the Middle Ages.
The FULMEN programme aims to understand them through a comparative approach over the long term. The focus of study is Catholic Christianity, without neglecting the Orthodox and Protestant worlds or possible parallels with the forms of exclusion in other religious traditions, in particular those of Muslim worlds. The direction of research follows two main angles of approach: the relationships between the interiority of the subject and government; the relations between secular powers and ecclesiastical institution.
How does the tradition of excommunication take shape in Late-Ancient Christianity, between the influence of rabbinical culture and Roman normativity ? How then are anathemas and socio-political order articulated during a early Middle Ages characterized by the lack of autonomy of the ecclesial institution in relation to the secular powers? In a golden age of government by the canonical sanctions, in the 12th and 13th centuries, there followed a very slow decline, which is consistent with the universality of the ecclesiastical jurisdiction. How do the uses and the socio-political effects of excommunication and prohibition persist and reconfigure themselves over time, according to the political-religious contexts? And what remains of it in a world where religion has largely lost its place as the organizing principle of societies?
The online research notebook fulmen.hypotheses.org offers the researchers involved a rallying point; it brings together various materials for the history of censorship and its news, and information on the current state of international research.
Four directions were selected for collective research in 2017-2021:
The main elements of comparisons of the forms taken by coercion, exclusion and re-inclusion in the traditions of Judaism, Christianity and Islam;
Launching, relaunching and lifting of censorship (declaration, promulgation, publication, reiteration, reconciliation, absolution);
Spiritual and (geo) political censorship: from Theodosius to Juan Peron, from the excommunication of the gibelins to that of the communists;
Resistances, disputes, controversy, derision: Brutum fulmen, or "le pape serrurier".
In addition, a new pontifical letters database, APOSCRIPTA database – Lettres des papes, accessible free online on the TELMA website, evolving and collaborative, was opened in 2017 as part of the programme: http://telma-chartes.irht.cnrs.fr/aposcripta/pages/presentation
Religion and politics; government; Catholic Church; spiritual and temporal; canonical censorship; excommunication