FAC-SIMILE. Graphic documentation and Etruscan painting museums
Section: Antiquity
Director: Natacha Lubtchansky, University of Tours-CeTHiS; Susanna Sarti, archaeologist, and Lucrezia Cuniglio, Soprintendenza Archeologia della Toscana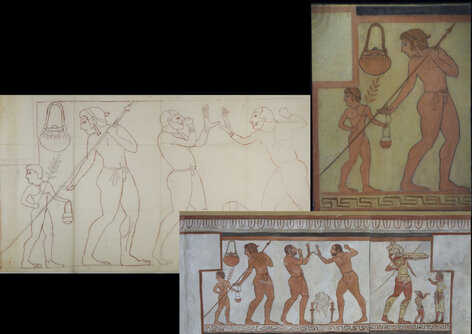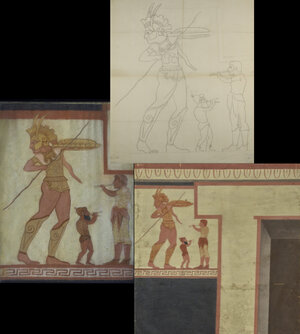 FACSIMILE. Graphic documentation and Etruscan painting museums
FACSIMILE is a programme of research and documentation of graphic reproductions of Etruscan painting developed between the 18th and 20th centuries. Watercolours, layers and facsimiles reproducing the frescoes of Etruscan tombs (Cerveteri, Chiusi, Orvieto, Tarquinia, Véies, Vulci) will be considered through their role in the dissemination of Etruscan art and culture within exhibition spaces (museums, private collections, exhibitions).
This graphic documentation has been the subject of various isolated research programmes, exhibitions, publications, depending on where the documents were conserved since the 1980s (L. Banti, G. Colonna, C. Weber-Lehmann, H. Blanck, M. Moltesen, etc.). In the tradition of these different works and at a time of particularly prolific research development on the reception of antiquity at an international level, the FAC-SIMILE programme aims to bring together the researchers and institutions in Italy, France, Germany, Great-Britain, Denmark, Sweden, the United States, in order to compare the different documentary collections. The book Dipingere l'Etruria. Le riproduzioni delle pitture etrusche di Augusto Guido Gatti, Osanna Edizioni, 2017 (Edited by L. Cuniglio, N. Lubtchansky, S. Sarti), which has just published all the graphic documentation that the Florentine painter produced for the Galleria della pittura etrusca in facsimile de Florence (1903-1931), thus allows us to enrich the general corpus and turn to questions of heritage history and the history of museography.
Through several scientific meetings, bringing together specialists and curators of these documents, various questions will be addressed :
the organization of the conserved documentary collections;
a comparative study of graphic representations: their production (cultural context of their design; process and techniques of execution) and their function (context of use; museography).
Hypotheses.org research notebook
Calendar of events 2017-2021
Scientific meetings:
Training research:
Promotion and expected results
This research is based on an inventory and publication programme for the preserved collections of drawings, reproductions and facsimiles of Etruscan painting. The aim is to develop a common portal networking the sites of the various scientific partners of the Facsimile project (Soprintendenza Archeologia Toscana; Deutsches Archäologisches Institut in Rome; La Sapienza Università; Svenska Institute Rome; Museo Gregoriano Etrusco del Vaticano; Ny Carlsberg Glyptotek; Museum of Fine Arts in Boston; Department of Prints and Photography - Bibliothèque nationale de France; École nationale supérieure des Beaux-Arts de Paris; INHA Library; Bibliothèque municipale de Nancy…). The online database ICAR - IConography ARcheology (ISSN 2491-2301) thus offers a pooling of the different series of drawings, referring, if necessary, to the websites where these materials are published.
The recording of these files in a scientific and heritage database supports research training through research as part of the Master Mention History of Art of Tours.
A second part of the programme concerns the wider public: the development of an online virtual exhibition making it possible to show, within 3D reconstructions of Etruscan tombs, the different drawings which have been produced since the discovery of the monuments.
Finally, an exhibition at the Museum of Fine Arts in Tours, scheduled for 2021, will present for the first time in France a sample of these Etruscan tomb reproductions, putting them in the international context of Etruscan culture in the 19th century. It will be associated with the work of a video artist and mapping specialist, Nikolas Chasser Skilbeck, who will create his own reconstruction of an Etruscan painted tomb, engaging also with reproductions (watercolors, layers and facsimiles) of the past.