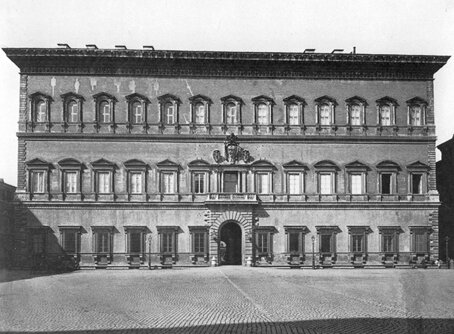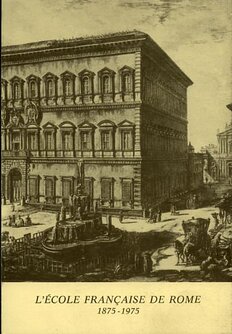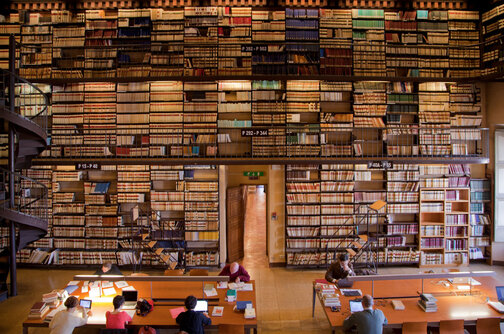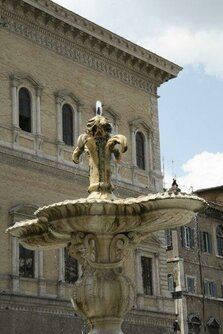 The École française de Rome was founded between 1873 and 1875. The idea for the École was first conceived by a group of scholars who were involved in the renewal of French higher education after the French defeat in the Franco-Prussian War. Their ambition was to reaffirm the strength of French scholarship within the new European balance of power by creating an institution that would provide effective support for academic research.
The École began life between 1873 and 1875 as an archaeological training school attached to its older counterpart in Greece, the École française d'Athènes, which had already been in operation since 1846. It was originally conceived of as a waystation in Rome for young scholars, called "members" (membres), who would take a year-long course in archaeology in Rome to ensure that they would be fully trained when they arrived at the excavation sites in Greece the following year. The École became a fully independent institution in 1875 and took up permanent residence in the Palazzo Farnese, sharing the building with the French Embassy to Italy.

SHistorical research became one of the main research areas of the École alongside archaeology after the appointment of the first director of the École, Auguste Geffroy, who was trained as a specialist in modern history. The special place of historical research, and in particular research on the history of the Church, within the activities of the École is explained by the richness of the archives of the then-newly reunified Italian state and the Holy See, which houses an inexhaustible stock of primary sources dealing with all parts of the world where Roman Catholicism has had an influence.

Archaeology remained an active area of research throughout the early years of the École, however. Because of the special constitutive role played by cultural heritage in Italian reunification, Italy at the time refused to issue excavation permits to foreign governments, preferring to maintain sole responsibility for research into its own past. The earliest excavations by members of the École in Italy, such as the excavations of Stéphane Gsell at Vulci on the property of the princes Torlonia, therefore took place on private land; members of the École instead undertook projects for the most part in the countries of the Maghreb. Large-scale French-led archaeological sites in Italy were opened only after the Second World War: at Megara Hyblaea in Sicily, at Bolsena and Mursarna in Latium, on the Pincio and at Vigna Barberini in Rome, and elsewhere.

Up through the 1950s the École remained a small and relatively closed institution despite the important role it played in French and Italian intellectual circles. It admitted only a few handpicked new members each year, eight per year at the beginning of the sixties, with interests ranging from antiquity to the early modern period. The late sixties and seventies, by contrast, marked a major period of change for the École. During the directorship of Pierre Boyancé the number of members increased considerably. Under director Georges Vallet the École first acquired and renovated a building on the Piazza Navona to accommodate large conferences and to house researchers for short-term stays, then put in place in 1974 a series of scholarships to fund month-long research visits, making the École accessible to a much larger number of scholars than before. Legislation enacted in 1974 opened the École for the first time to scholars focusing on the modern period by creating three research "sections" at the École for antiquity, the Middle Ages, and the early modern and modern periods respectively, each led by its own directeur des études.
Starting in the 1990s, the École expanded its areas of research to include the non-historical social sciences. In 1999 it increased the number of members to eighteen and took over management responsibility from the French Ministry of Foreign Affairs for the Centre Jean Bérard in Naples, a centre for research on southern Italy focusing primarily on archaeology. The École administers the centre jointly with the French National Centre for Scientific Research, thus reinforcing the already strong ties between the two institutions.
In 2011, a new ministerial decree granted autonomy to all five French overseas research schools and established a framework for managing all the schools as a unified network.
L'École française de Rome at the turn of the 1970s
Lecture by Jérémie Dubois (University of Reims)
Conference held at the Collège de France on November 21, 2018 for the launch of the Association of Friends of the EFR

Listen:
If the audio player is not displayed below, you can listen to the conference on SoundCloud.
"Remembrances" (2018)
Souvenirs d'anciens membres (1944-1970) recueillis par Jean-François Dars et Anne Papillault
If the audio player is not displayed below, you can listen to the conference on Youtube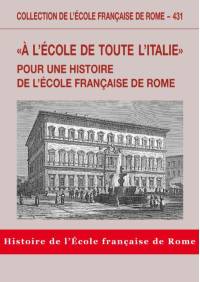 Several monographs published in the series Collection de l'École française de Rome illustrate the history of the institution during its early years. The École has also published biographies of several former members, including Georges Goyau, Émile Bertaux, and Jean Bérard, and has edited the correspondence of Msgr. Louis Duchesne, director of the École during the early twentieth century, and one of his close associates, Mme. Bulteau, between 1902 and 1922. These texts include:

"À l'École de toute l'Italie : pour une histoire de l'École française de Rome" (Coll. EFR 431, Rome: École française de Rome, 2010) : un recueil de textes écrits entre 1873 et 1993 réunis par Michel Gras, alors directeur, en 2010.
"Avec Jean Bérard, 1908-1957 : la colonisation grecque et l'Italie sous le fascisme", P. Brun et M. Gras (éd.), Rome, 2010 (Coll. EFR, Rome, 440) ;
"Construire l'institution. L'École française de Rome, 1873-1895", sous la direction de Michel Gras et d'Olivier Poncet (Coll. EFR 486, Rome, 2014) : an account of the first twenty years of the École;
"Émile Mâle (1862-1954). La construction de l'œuvre : Rome et l'Italie" (Coll. EFR 345, Rome, 2006);
"Émile Bertaux tra storia dell'arte e meridionalismo. La genesi de L'art dans l'Italie méridionale", V. Papa Malatesta, Rome, 2007 (Coll. EFR, Rome, 380);
"Jean Guiraud (1866-1953), polémiste chrétien", J.-O. Boudon (éd.), (Coll. EFR 497, Rome, 2014);
"L'École française de Rome 1875-1975, Exposition organisée à l'occasion de son centenaire", Archives nationale de France et École française de Rome, Paris et Rome, 1975;
"L'Histoire et l'œuvre de l'École française de Rome. Livre du Cinquantenaire", Ed. E. de Boccard, Paris, 1931;
"Un intellectuel catholique sous la IIIe République : Georges Goyau (1869-1939)", Rome, 2007, J. Grondeux, (Coll. EFR, 381).
Dernières actualités - Histoire
25 March 1873
Decree establishing a branch of the École française d'Athènes in Rome
26 November 1874
Decree giving the name "École archéologique de Rome" to the Rome branch of the École française d'Athènes
20 November 1875
Decree establishing an independent École française de Rome
December 1875
Move of the École into the Palazzo Farnese

27 October 1931
Fiftieth anniversary of the École celebrated at a ceremony at the Sorbonne in Paris

1 June 1940
Departure of the director of the École following the entry of Italy into the Second World War
1941-1945
The École supports the activities of its members in France
13 June 1945
Naming of a new director
Late September 1946
Restart of operations of the École in Rome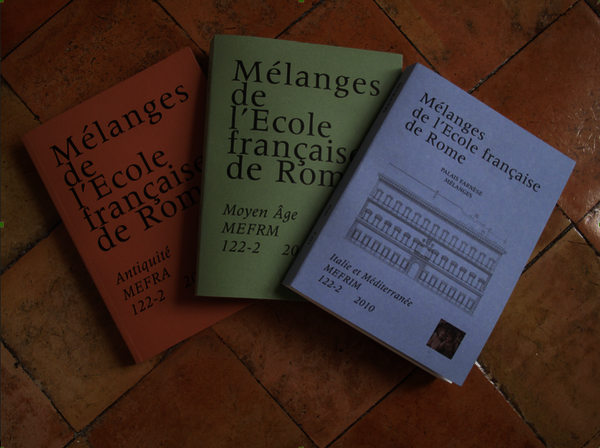 1914-1918
1914-1918 pendant la Première Guerre mondiale, mobilisation de certains des membres et du personnel scientifique. Huit perdront la vie. Après le conflit, Monseigneur Duchesne, directeur de l'École, leur rendra hommage en faisant installer une plaque de marbre au Palais Farnèse.
1931
27 octobre 1931 célébration en retard crise politico-économique du Cinquantenaire de l'École et célébré à Paris, à l'université de la Sorbonne, en présence du président Paul Doumer. À cette occasion, publication du Volume du Cinquantenaire contenant les textes des discours prononcés et des photographies inédites.
1940-1946
1er juin 1940 départ du directeur de l'École, Jérôme Carcopino, avant l'entrée en guerre de l'Italie.
1940-1944 les membres continuent leurs activités en France.
Juillet 1944 réinstallation de l'EFR au palais Farnèse et reprise des principales activités de cette dernière grâce aux efforts de deux anciens membres, Adrien Bruhl et Jacques Heurgon.
13 juin 1945 nomination d'Albert Grenier comme nouveau directeur.
Juin 1946 nomination d'Adrien Bruhl comme secrétaire général.
Fin septembre 1946 reprise définitive de l'activité de l'École.
1946-1966
Mai 1946-février 1949 autorisation des concessions archéologiques étrangères en Italie : début des fouilles de Bolsena (province de Viterbe) suivies de celles de Megara Hyblaea (province de Syracuse).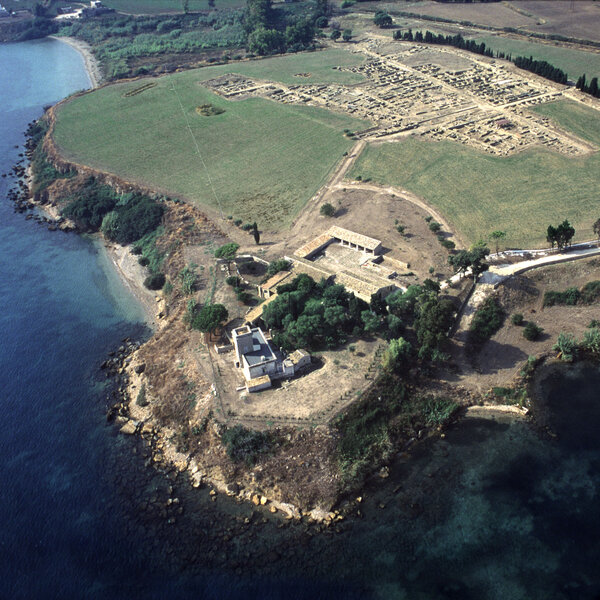 1966
Purchase of a building at 62 Piazza Navona to accommodate researchers

6 February 1974
Decrees reforming the École by putting in place three directeurs d'études, establishing scholarships for short-term visits, and extending the operations of the École to cover modern history
19 September 1974
Ministerial order setting the terms of scholarship awards for short-term visitors to the École
17 October 1975
Centenary of the École celebrated at the Institut de France in Paris
1 December 1975
Centenary of the École celebrated at the Palazzo Farnese in Rome
2 December 1975
Inauguration of the building at 62 Piazza Navona
10 September 1996
New decree establishing the École française de Rome as a public research body (établissement public à caractère scientifique, culturel et professionnel) and opening the school to researchers in the non-historical social sciences