ROTAROM17. Delivering justice on a transnational scale in Europe. The Roman Rota and the enforcement of a legal culture of negociation (c. 1560-1700)
Axis 5 – Beliefs, Practices, and Religious Institutions
Project Horizon ERC Grant n°101096639, 2023-2028
Section : Époques moderne et contemporaine
Director : Isabelle Poutrin, université de Reims Champagne-Ardenne et Centre d'études et de recherche en histoire culturelle (CERHiC)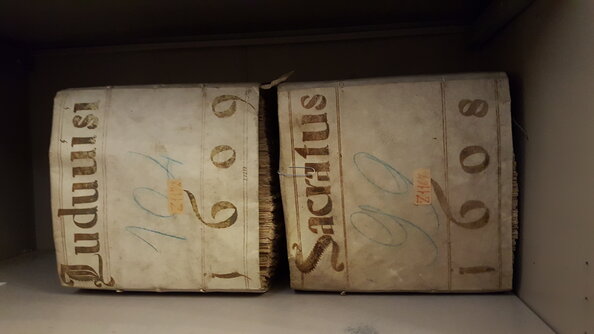 Presentation
ROTAROM17 looks at the Roman Rota, the great civil court of the papacy, as one of the essential tools of the transnational governance of the Catholic Church in early modern Europe. Our aim is to study this institution, which remains still poorly known for this period, and to see law in action through a series of case studies, as well as the way in which the court's jurisprudence contributed to the constitution of a legal culture founded on negotiation. The project's second objective is to open a new research field on the Roman Rota and to facilitate access to its massive documentation, by producing essential research tools and reference works, thus laying strong foundations for future developments of scholarship.
ROTAROM17 foregrounds primary research, connecting the Rota's archival funds with a large set of archival funds and libraries in Europe. By renewing approaches and opening up access to hitherto untapped documentation, ROTAROM17 will make a major and original contribution to rethinking the structuring role of law in European culture, and will offer historians new prospects for exploring their local or national fields of research.
Director: Isabelle Poutrin, Professor of Early Modern History at University of Reims Champagne-Ardenne.
Senior Staff: Simona Feci, University of Palermo ; Anne Bonzon, University of Paris 8 ; Fabienne Henryot, ENSSIB ; Bertrand Marceau, University of Reims Champagne-Ardenne ; Benedetta Borello, University of Cassino.
Associated Fellows: Elfie Goyau, Lecturer at University of Reims Champagne-Ardenne ; Daniel Ochoa Rudi, Ph.D. candidate at University of Zaragoza.
Project Manager: Jair Santos, Ph.D (Scuola Normale Superiore di Pisa).
Partners
Université de Reims Champagne-Ardenne (Host Institution)
École française de Rome
Disciplines
Modern history, social and religious history, history of law, history of books, cultural history
Geographical area
Europe (Catholic countries)
Page translated from French, last update 09/11/2023
Prochaines manifestations et actualités
Programmes structurants (2022-2026)
Axe 1 – Espaces maritimes, littoraux, milieux insulaires
Axe 2 – Création, patrimoine, mémoire
Axe 3 – Population, ressources, techniques
Axe 4 – Territoires, communautés, citoyenneté
Axe 5 – Croyances, pratiques et institutions religieuses
Axe 6 – L'Italie dans le monde
Projets financés par l'Agence nationale de la Recherche (ANR)
Axe 2 – Création, patrimoine, mémoire
Axe 3 – Population, ressources, techniques
Axe 4 – Territoires, communautés, citoyenneté
Axe 5 – Croyances, pratiques et institutions religieuses
Axe 6 – L'Italie dans le monde
Projet franco-allemand financé par l'Agence nationale de la Recherche (ANR) et la Deutsche Forschungsgemeinschaft (DFG)
Axe 6 – L'Italie dans le monde
Projets européens (Horizon 2020)
Axe 5 – Croyances, pratiques et institutions religieuses
Projets Impulsion
Axe 2 – Création, patrimoine, mémoire
Axe 3 – Population, ressources, techniques
Axe 4 – Territoires, communautés, citoyenneté
Axe 5 – Croyances, pratiques et institutions religieuses