Marie Skłodowska-Curie Postdoctoral Fellowships at the École française de Rome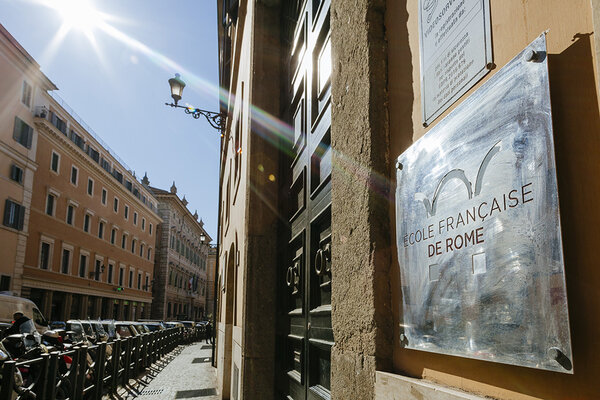 Over the past few years the École française de Rome (hereafter EFR) has successfully acted as host institution for the Marie Skłodowska-Curie Fellowships (hereafter MSCA-PF) awarded by the European Commission. If you are interested in applying for a MSCA-PF in archaeology, history, social sciences and your research work is related either to Rome, Italy, Maghreb or to the South-Eastern countries close to the Adriatic coast, EFR is the Host Institution you are looking for.
AN INTERNATIONAL RESEARCH CENTRE FOR THE HUMANITIES IN ITALY
Founded in 1875, the EFR is a public institution, operating under the aegis of the French Ministry of Higher Education, Research and Innovation, situated in Rome in two locations (Palazzo Farnese and Piazza Navona); it is also a member of the Réseau des Écoles françaises à l'étranger (ResEFE). The EFR's mission is to achieve and sustain excellence in research and research training in the field of archaeology, history and other human and social sciences in the areas of Rome, Italy and the central Mediterranean basin. The EFR scientific organization is composed of three divisions: Antiquity, Middle Ages, Modern and Contemporary Periods.
WHAT CAN EFR OFFER TO MSCA APPLICANTS?
Supervisors: referent researchers from an international scientific comunity linked to the EFR.
Infrastructures: an adapted work space; conference and workshop spaces; a modern and functional residence for researchers in the heart of Rome; a laboratory of archaeology; an outstanding library specialized in archaeology and Roman civilization, history of Italy, church history, text history, history of law (210 000 volumes).
Administrative and financial support: Italian and international university networks belonging to "the International Union of Institutes of Archeology, History and Art History in Rome"; tailored advice regarding Digital Humanities.
Support for research dissemination: worldwide renowned publications and in Open Access; a communications office; an exhibition hall.
HOW TO CHOOSE EFR AS HOST INSTITUTION?
Participate in the video conference presentation of the EFR on February 18th, 2022.
Choose one among the EFR's 6 scientific axes and one of our experts as supervisor.
Contact the director of the respective division [Antiquity; Middle Ages; Modern/Contemporary] before March 15th, 2022.
Submit your declaration of interest before March 31st, 2022:

Personal data; a complete and updated CV (max. 2 pages plus full list of publications);
a two page research proposal;
a motivation letter (that explains the choice of EFR as host institution).
Communication of the preselected candidates will take place by mid-April, 2022.
Participate in the masterclass on project writing organised on May 31st, 2022.
Submit your application to the MSCA-PF prior to the deadline September 14th, 2022.
The powerpoint of the presentation of MSCA Postdoctoral Fellowships at the EFR →
The powerpoint of the APRE association →
The following links provide more in-depth information about MSCA-PF:
MSCA Postdoctoral Fellowships on the french website Horizon Europe →
MSCA - Marie Skłodowska-Curie actions on the italian website of APRE →