Visual corporate identity of the École française de Rome - December 2020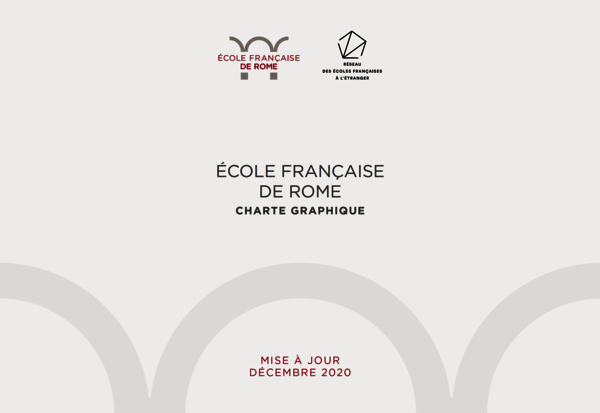 The new visual identity of the École française de Rome, launched in 2015, came with a thorough overhaul of its communications programme, aimed at a variety of audiences. Its range, using a graphic design system (logo, colours, applications, etc.) has made it possible to highlight its research missions, training and dissemination of knowledge, in a spirit of disciplinary openness and collaboration.
Five years after its creation by the studio Rovai Weber and Giovanna Chiarelli Huet, this visual identity still embodies an ambitious project: to assert the École's special place in the world of higher education and research and to underline its influence at an international level.
The École française de Rome has, since then, diversified its activities with the emphasis on the dissemination and promotion of research in the human and social sciences. It has also developed collaborative networks in all areas of its activities, thanks, in particular, to the Réseau des Écoles françaises à l'étranger, whose missions were clearly defined in the 2021 decree and whose development is driving forwards. The Écoles have also initiated major projects taking on the challenges of digital technology and open science, international cooperation and European research policies, in multiple interdisciplinary forms.
To share information on all of these projects, the École's visual identity has adapted, over time, to a wide range of media, printed or digital, including signage and audiovisual. New models have been created to meet the needs and the development of the activities. In addition to the communications service, the library, the academic departments, the publications service, the archaeological service and the administration use it daily.
To illustrate these developments, you will find here a revised and enhanced version of our visual identity manual which presents the basics and application principles. It should serve as a guide and orientation to strengthen our communication. Intended to be shared with all of our partners (programme managers, printers, graphic designers, web designers), it can be downloaded from our website. Thanks to your support, the visual identity of the École will be widely recognized and will convey the fundamental values of our establishment.
Brigitte Marin, director of the École française de Rome

01. Les Ingrédients
01. Les éléments constitutifs de l'identité visuelle
01.1. LE NOM
01.2. LES LOGOTYPES
01.3. LA SIGNATURE OU BASELINE
01.4. LA VALORISATION DES DOMAINES D'ACTIVITÉS
01.5. LA TYPOGRAPHIE
01.6. LES COULEURS
01.7. L'ICONOGRAPHIE
02. Les Applications
02.1. LA PAPETERIE
02.2. LA COMMUNICATION INSTITUTIONNELLE
02.3. LA COMMUNICATION OPÉRATIONNELLE
02.4. L'ÉDITION
02.5. LES SUPPORTS MULTIMÉDIA
02.6. LES OBJETS PROMOTIONNELS
02.7. LA CO-SIGNATURE
02.8. DES EXEMPLES DE DÉCLINAISON PAR SERVICE

Annexes
1. COMMENT PRODUIRE VOS SUPPORTS DE COMMUNICATION
2. QUELQUES RÈGLES TYPOGRAPHIQUES (EN FRANÇAIS)
3. LES POLICES DE CARACTÈRES DE TRANSLITTÉRATION