Circolo medievistico romano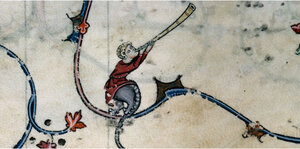 The "Circolo Medievistico Romano" is a cycle of seminars on the current status of research into medieval history, archaeology and philology. Created in 1974, the Circolo has been held regularly, reuniting researchers from all the Roman institutions (both Italian and foreign) who are working on the Middle Ages.
The meetings take place almost every month, from October to June, in one of the institutions involved. The lecture itself is in Italian. The questions and the discussion that follow may be in other languages. Each medievalist member of the EFR is strongly encouraged to present a lecture during his or her stay in Rome. Although they are informal, over the years these meetings have become an important locus for scientific exchanges and meetings between medievalists from different countries and disciplines (historians, archaeologists, art historians, philologists and philosophers…).
Organizing committee:
Valeria Beolchini (Escuela Española de Historia y Arqueología en Roma), Christian Grasso (Istituto Storico Italiano per il Medioevo), Umberto Longo (Sapienza Università di Roma), Vito Lorè (Università degli Studi Roma Tre), Andreas Rehberg (Deutsches Historisches Institut in Rom), Pierre Savy (École française de Rome) and Lila Yawn (John Cabot University).