The Middle Ages in the Modern World (MAMO)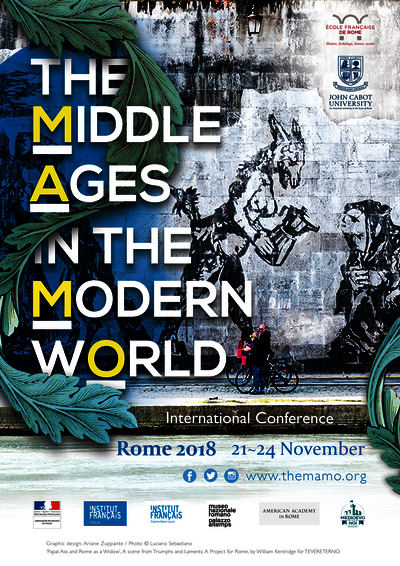 Category :
La recherche Ressources multimedia
Place and date :
Rome
From 11/21/2018 to 11/24/2018
Du 21 au 24 novembre 2018
The Middle Ages in the Modern World (MAMO)
ÉCOLE FRANÇAISE DE ROME, piazza Navona 62
JOHN CABOT UNIVERSITY
MAMO 2018 comprend 42 panels et keynotes, distribués sur plus de trois jours et portant sur des sujets de grand intérêt. Les participants au colloque seront environ 120, provenant d'une vingtaine de pays ; les langues de travail seront l'italien, l'anglais et le français.
MAMO 2018 comprende 42 panels e keynotes vertenti su argomenti molto interessanti. I partecipanti al convegno saranno circa 120, provenienti da una ventina di paesi diversi; le lingue delle relazioni saranno l'italiano, l'inglese e il francese.
La description du colloque - La descrizione del convegno →
Le programme complet - Il programma completo →
Plus d'informations sur MAMO sur le site - Maggiori informazioni su MAMO sul sito: themamo.org
Écouter :
Si le lecteur audio ne s'affiche pas ci-dessous, vous pouvez écouter les interventions sur SoundCloud.