Rome 1814 : continuités et héritages de l'Empire napoléonien dans la capitale de Pie VII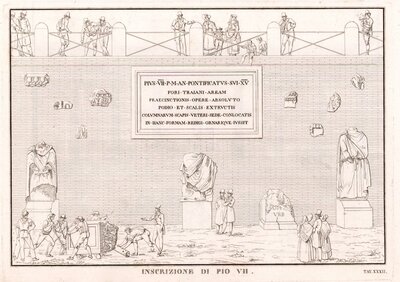 Place and date :
EFR, Place Navone (accès du public par visio-conférence uniquement)
The 05/26/2021 from 10 h 00 at 13 h 00
Org. : Adrián Almoguera (École française de Rome)
Cette rencontre scientifique a pour but de proposer une réflexion sur les continuités et les héritages qui lient différents aspects de la Rome du Premier Empire avec la capitale de Pie VII après sa restauration définitive en 1814. Elle prend comme point de départ les dernières recherches et manifestations scientifiques sur la Rome napoléonienne, pour interroger les années qui ont suivi la chute de Napoléon Premier et analyser ainsi l'importance de ce moment éphémère, mais sans doute fondamental, dans l'histoire de Rome. Pour ce faire, nous souhaitons créer un dialogue à partir des interventions de quatre spécialistes sur des problématiques liées à la sphère politique, les mutations dans le système des grands musées romains, les projets urbains de la ville et les principales initiatives archéologiques de la période.
Légende illustration: Angelo Uggeri, Della Basilica Ulpia nel Foro traiano, storia e ristaurazione agli amanti delle antichità romane, Rome, Sd [1830], pl. XXXII, Rome, collection particulière
La rencontre peut être suivie à distance, à partir du lien suivant (utiliser de préférence les navigateurs chrome ou firefox): https://seminaire.efrome.it/b/dir-iou-xq2-4lu
En vous connectant, merci de sélectionner le mode "écoute seule".
---
La journée d'études sera suivie à 18h30 de l'événément organisé par l'Institut français Italia, dans le cadre du Bicentenaire Napoléon :
Dialoghi del Farnese 2021