Plurilingualism and the kingdom of Naples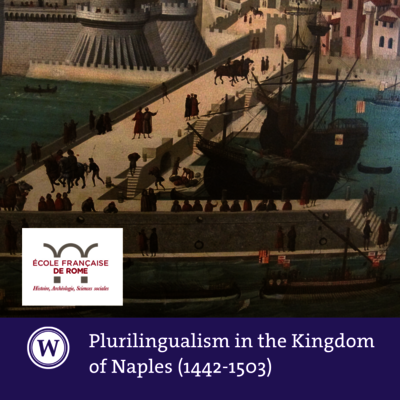 École française de Rome
The 07/01/2021
Plurilingualism is usually defined as the use of several languages by the same individual. It includes bilingualism - the most frequent case - but is distinguished from multilingualism, which means the coexistence of several languages within a specific social group. A plurilingual society is composed mainly of individuals able to communicate at various levels of ability in several languages, whereas a multilingual society can be mainly composed of monolingual individuals.
In Naples, at the time of Alfonso and Ferrante of Aragon (1443-1458), the Catalan language was used in the city as well as in court, in synchrony with Castilian and various italic languages: Tuscan, Neapolitan, but also Greek and Latin, ancient as well as modern. The production of chancellery texts shows a development from Catalan only to the use of both Catalan and Neapolitan. Kings and nobles originating in Spain write alternatively in Catalan, then Castilian and Neapolitan, while Italians are less bilingual. In Milan, the Visconti then Sforza' chancellery begins to use Italian in the first half of the 15th century. Languages used for communication - written but also oral - are rarely 'pure' dialects, and hybridizations are not always easy to identify. As the memories of the old French dynasty, its languages and models have not yet disappeared, the Kingdom of Naples sees the development of different types of hybridization, transliterations and borrowings.
Studying literary and administrative documents, private and official correspondence from this perspective helps to understand the choice of languages used by authors, and the use of diachronic linguistics offers a new approach to the study of the use of languages during the humanistic times. The production of anonymous clerks, of well-known authors like Giovanni Pontano, of kings and educated noble men and women offers us a large corpus of texts where the links between plurilinguism and the development of languages can be studied.
Taking the Kingdom of Naples as a starting point, the workshop will offer case studies of other languages and countries to broaden towards a re-examination of the question of plurilinguism in Early Modern Europe.
Organised by Florence Bistagne (Université d'Avignon) and Raphaële Mouren (Warburg Institute).
Partners: The Warburg Institute; École française de Rome; Institut universitaire de France; Laboratoire identité culturelle, textes et théâtralité (Université d'Avignon); Dynamiques patrimoniales et culturelles (Université Versailles Saint-Quentin-en-Yvelines)
For further information: https://warburg.sas.ac.uk/events/event/24476
Practical information
To attend the conference: