La formation des peintres dans l'Europe occidentale du XVIe siècle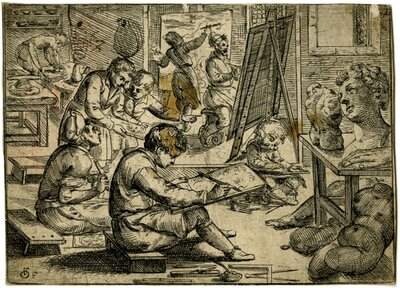 Place and date :
l'École française de Rome
From 10/10/2017 to 10/11/2017
Après avoir examiné la population artistique (Genève, 2015), puis la réglementation du travail (Barcelone, 2016), le programme Pictor continue, à Rome, son exploration des conditions d'exercice du métier de peintre en Europe occidentale au XVIe siècle en abordant la question de la formation. Celle-ci peut être appréhendée, entre autres, à travers les archives des notaires, celles des collèges, guildes et confréries, ainsi que grâce aux témoignages littéraires et à ceux des œuvres elles-mêmes. Il s'agira d'examiner tant les cadres juridiques – apprentissage, compagnonnage, maîtrise –, que la nature de l'enseignement dispensé, notamment la place accordée au dessin ou aux savoir-faire techniques. On tentera de cerner d'éventuelles évolutions chronologiques et des spécificités géographiques à une période clé de l'histoire de la peinture. Cette démarche comparatiste devrait permettre de dresser une cartographie des pratiques d'atelier en ce domaine à l'échelle de plusieurs villes européennes.
Télécharger le programme en pdf
Programme Pictor : le métier de peintre à la Renaissance en Europe
Org. Michel Hochmann (EPHE), Audrey Nassieu Maupas (EPHE)
En collaboration avec la Casa de Velázquez, dans le cadre du réseau des Écoles françaises à l'étranger