Séminaire Italie contemporaine - Modern Italian History seminar series - 2016-2017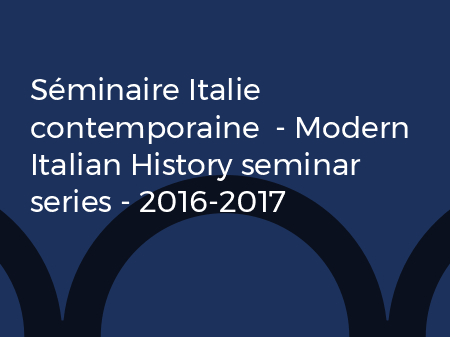 Category :
Unione Internazionale La recherche
Place and date :
Rome
From 11/07/2016 to 06/30/2017
The British School at Rome and the École française de Rome are pleased to announce the launch of a regular seminar series in Rome dedicated to Modern Italian History. To be hosted by various academies and conducted in English or Italian, its aims are:
to bring together visiting and resident Italian modernists
to showcase, promote and explore newly published and current research underway in Italy
to inform on other relevant academic events
Seminar Programme 2016–2017
7 November 2016, British School at Rome
Vanda Wilcox: 'Per una più grande Italia? Motivation and morale in the First World War'
15 December 2016, Royal Netherlands Institute in Rome
'Oskar Pollak e la sua collezione di guide di Roma'
11 January 2017, École française de Rome (Piazza Navona 62)
Marie Bossaert: 'Il nemico per antonomasia. I turchi nella storia locale italiana'.
1 march 2017, Accademia di Danimarca (Via Omero, 18)
Jan-Jonathan Bock: 'The L'Aquila Earthquake - destruction, despair and Berlusconi'
Further sessions will be organised in 2017. We welcome proposals from any resident or visiting scholar interested in presenting their research. For more informatino please contact:
Simon Martin, Research Fellow, British School at Rome
Email: simon.martin(at)bsrome.it
Fabrice Jesné, Directeur des études pour les Époques moderne et contemporaine, École française de Rome
Email: dirmod(at)efrome.it