Rencontre autour du livre de David Kertzer, The Pope at War. The Secret History of Pius XII, Mussolini, and Hitler (2022)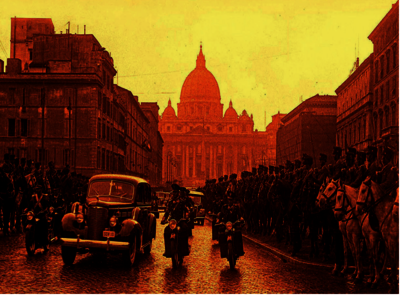 Séance de séminaire
Period :
Époque contemporaine
Roma, EFR, Piazza Navona 62
The 06/05/2023 from 17 h 00 at 19 h 00
Org. Édouard Coquet (EFR), Maddalena Cataldi (EFR), Laura Pettinaroli (EFR), Nina Valbousquet (EFR)
Séminaire du programme ArchivesPie12 (EFR) et du programme ANR Globalvat (EFR/LARHRA UMR 5190)
Rencontre autour du livre de David Kertzer, The Pope at War. The Secret History of Pius XII, Mussolini, and Hitler (2022)
Discussion entre David Kertzer (Brown University), Valeria Galimi (Università di Firenze), Simon Levis Sullam (Università Ca Foscari, Venezia) et Gabriele Rigano (Università per Stranieri di Perugia), modérée par Nina Valbousquet (CNRS-EFR).
Contact et inscriptions : globalvat.anr(at)efrome.it