Lettere d'artista tra Spagna, America ed Europa nell' Ottocento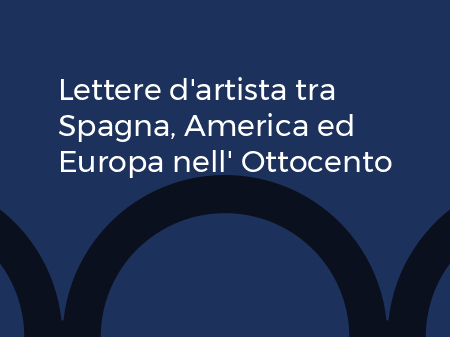 Place and date :
Madrid, Museo Lázaro Galdiano
From 05/06/2019 to 05/07/2019
Il prossimo incontro del programma di ricerca Lettres d'Artiste si terrà il 6 e 7 maggio 2019 al Museo Lázaro Galdiano a Madrid, grazie alla collaborazione con il programma "gemello" da Amaya Alzaga Ruiz (UNED Madrid) Epistolarios de artistas y literatos españoles del siglo XIX (Ref. HAR2017-88765-P, finanziato mediante bando selettivo dal Ministerio de Economia y Competitividad de España, con la partecipazione di Museo del Prado, Museo Lázaro Galdiano, Madrid, e Università della Calabria).
Il convegno internazionale Cartas de artistas entre España, América y Europa en la segunda mitad del siglo XIX /Lettere d'artista tra Spagna, Americhe ed Europa nell'Ottocento ha l'obiettivo di esplorare il versante iberico e ibero-americano delle circolazioni artistiche tra Roma e il mondo nei secoli XVIII e XIX, solo da qualche anno oggetto di studi sistematici.