Les voyages philosophiques d'Averroès, Maïmonide, Montaigne. 1- Le monde élargi de Montaigne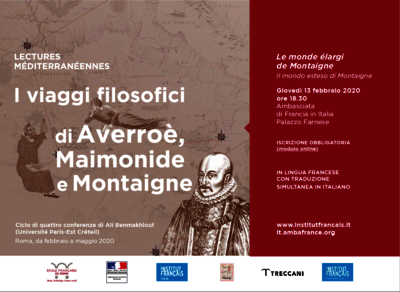 Category :
La recherche Ressources multimedia
Place and date :
Ambassade de France en Italie, Palazzo Farnese, piazza Farnese 67
The 02/13/2020 from 19 h 30 at 21 h 00
Conférence d'Ali Benmakhlouf (Université Paris-Est Créteil)
Les voyages philosophiques d'Averroès, Maïmonide, Montaigne. 1- Le monde élargi de Montaigne
Cycle Lectures méditerranéennes - Conférence en langue française avec traduction simultanée en italien
Montaigne est connu pour avoir fait un voyage en Italie. La conférence partira de ce voyage, mais ce ne sera que le point de départ pour les autres voyages faits en pensée. Entre la période de Pic de la Mirandole et celle de Montaigne, une rupture est introduite par le massacre des Amérindiens. Le monde s'est élargi. Montaigne découvre différentes régions du monde qui viennent relativiser la centralité de l'homme chrétien : les Turcs (présents par la bataille de Lépante en Italie), les Amérindiens, les Chinois. Montaigne en vient à dire qu'on appelle barbare ce qui n'est pas de son usage. Comment est-on passé d'une vision métaphysique de l'homme, milieu entre Dieu et les animaux, à une vision anthropologique où s'affirme un humanisme pluriel ? C'est la question qui animera cette conférence.
--
Montaigne è noto per aver fatto un viaggio in Italia. La conferenza partirà da questo viaggio, ma sarà solo il punto di partenza per altri viaggi fatti con il pensiero. Tra il periodo di Pico della Mirandola e quello di Montaigne, una rottura si presenta con la strage degli Amerindi. Il mondo si è allargato. Montaigne scopre molte regioni del mondo che pongono in secondo piano la centralità dell'uomo cristiano: i turchi (presenti in Italia con la battaglia di Lepanto), gli amerindi, i cinesi. Montaigne arriva a dire che ciò che viene chiamato barbaro è ciò che non gli serve. Come siamo passati da una visione metafisica dell'uomo, a metà strada tra Dio e gli animali, a una visione antropologica dove si afferma un umanesimo plurale? Questa è la domanda che animerà questa conferenza.
Partenaires : Ambassade de France en Italie - Institut français Italia, Fondazione Primoli, Istituto della Enciclopedia Italiana Treccani, Institut français - Centre Saint-Louis
Télécharger :
Écouter :
Si le lecteur audio ne s'affiche pas ci-dessous, vous pouvez écouter les interventions sur Soundcloud