La « governance » dell'immigrazione e dell'asilo in Sicilia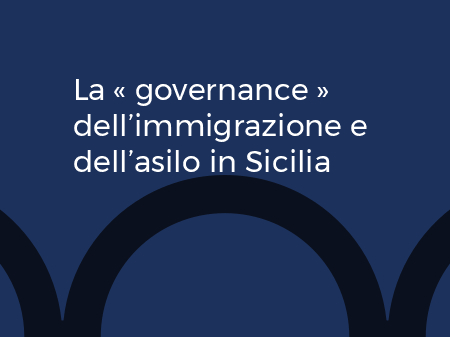 Category :
La recherche Séminaires
Place and date :
Rome
The 04/19/2018 from 19 h 30 at 21 h 30
Dans le cadre du séminaire « Italia Contemporanea »
organisé par Fabrice Jesné (EFR) et Simon Martin (BSR)
le jeudi 19 avril 2018
à la British School at Rome (via Antonio Gramsci, 61)
se tiendra le séminaire
La "governance" dell'immigrazione e dell'asilo in Sicilia: all'incrocio tra logiche di accoglienza, di controllo e dimensioni economiche
par Marie Bassi, membre de l'École française de Rome
Dall'inizio degli anni 2000 più di un milione di migranti, di origine diversa, sono sbarcati sulle coste italiane, soprattutto nei porti siciliani, e in primis a Lampedusa. Questi arrivi via mare, e i morti nel Mediterraneo, sono diventati il simbolo della sfida migratoria, a livello europeo e negli stati membri. Tuttavia, trent'anni fa, la questione dell'immigrazione in Sicilia e a Lampedusa non era considerata come un problema, né un oggetto di mobilitazione: non era una posta in gioco.
In questo contesto, come e perché l'immigrazione è diventata una sfida politica in una tradizionale area di emigrazione che si è trasformata in un luogo simbolico della frontiera europea? Per rispondere a questa domanda, ci concentreremo su due elementi.
- Presenteremo il processo di politicizzazione dell'immigrazione in Sicilia attraverso un'analisi delle mobilitazioni «pro-migranti» dalla fine degli anni 1980 agli anni 2010. Queste dinamiche militanti saranno esaminate sia in relazione alla configurazione locale particolare della Sicilia che alle interazioni sovraregionali su scala nazionale ed europea.
- Questa comunicazione proporrà un'analisi di uno degli strumenti più importanti delle politiche d'immigrazione e di asilo degli Stati : i centri per i richiedenti asilo, rifugiati e migranti «irregolari». Molto numerosi in Sicilia, questi centri, la cui gestione è delegata a diverse organizzazioni del terzo settore, sono all'incrocio tra logiche di controllo, di accoglienza e dinamiche economiche.