Eastern African Ethnography, Memory and Identity at the Ex-Colonial Museum in Rome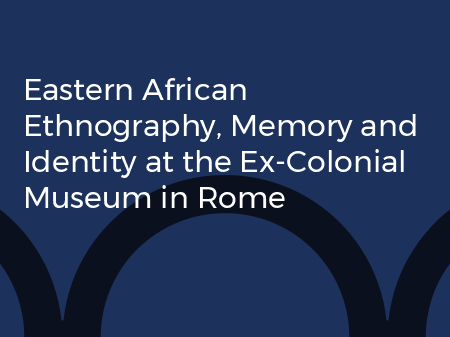 Category :
La recherche Séminaires
Place and date :
en ligne
The 06/01/2021 from 18 h 00 at 20 h 00
Séminaire reporté à une date ultérieure.
Interviene: Flaminia Bartolini (Cambridge Heritage Research Centre)
Discussant: Simona Berhe (Università di Bologna)
Nella cornice del 5° Ciclo del "Rome Modern Italy Seminar", organizzato con la SISSCO e l'Unione internazionale degli istituti di archeologia, storia e storia dell'arte in Roma.
In diretta streaming, lingue: Inglese e Italiano
Per la registrazione inviare una e-mail a info-event(at)dhi-roma.it
Il termine ultimo per l'iscrizione è il 31 maggio 2021.