Archeologia dei cantieri e topografia di Roma: analisi e proposte ricostruttive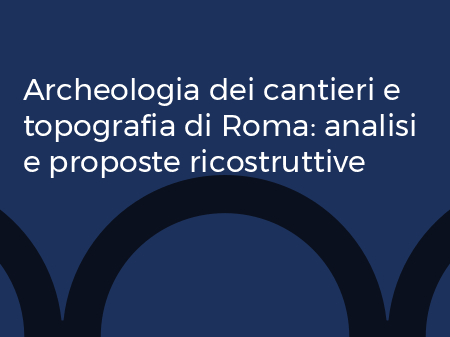 Place and date :
Deutsches Archäologisches Institut
The 10/15/2018 from 18 h 00 at 20 h 30
INCONTRI DELL'ASSOCIAZIONE INTERNAZIONALE DI ARCHEOLOGIA CLASSICA
L'associazione AIAC, fondata nel 1945, ha lo scopo di costituire un centro di vera e pratica collaborazione internazionale per tutti gli studiosi di archeologia classica. Tra le sue attività ricordiamo l'organizzazione di un convegno quinquennale di Archeologia Classica, la gestione di un sito web che include l'utilissima agenda archeologica, la pubblicazione di AIACNews e la recente creazione di una versione on line dei Fasti Archeologici (www.fastionline.org), non più pubblicati in forma cartacea.
Dal 2000, inoltre, si organizzano a Roma incontri mensili nei vari Istituti nazionali di archeologia per permettere a giovani studiosi (dottorandi, borsisti ecc.), che stanno svolgendo una ricerca in Italia, di presentare il loro lavoro e di incontrarsi. Le conferenze vengono preferibilmente effettuate in italiano, ma anche le altre lingue sono accettate.
Lunedì, 15 Ottobre 2018, ore 16.00
Archeologia dei cantieri e topografia di Roma: analisi e proposte ricostruttive
(moderatore: Stefano CAMPOREALE, Università degli Studi di Siena)
Deutsches Archäologisches Institut
Via Valadier 37, Roma
Rossella PANSINI (Università di Pisa), Archeologia della costruzione nel centro monumentale di Sala (Mauretania Tingitana): il caso della Curia Ulpia.
Andrea GUAGLIANONE (Università degli studi di Venezia "Ca' Foscari"), Porticus Minuciae e frumentationes: le strutture di via di S. Nicola de' Cesarini come chiave di lettura della questione
Milena MIMMO (Centre Camille Jullian, AMU/CNRS), Gli edifici di stoccaggio della città di Roma: dall'analisi strutturale alla proposta ricostruttiva degli Horrea Vespasiani.
Scaricare la locandina in PDF