Animali e divinazione - Les animaux dans les rites divinatoires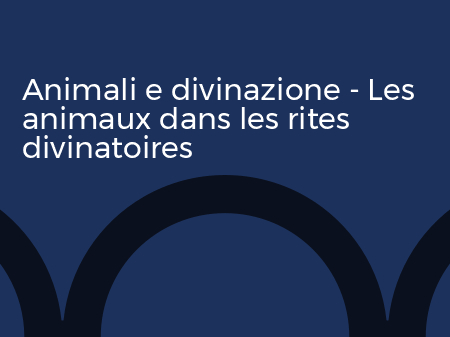 Category :
La recherche Les séminaires
Place and date :
Roma
The 05/23/2019 from 18 h 00 at 20 h 30
Nel quadro del ciclo di seminari "Animaux, religions et sociétés"
Giovedì 23 maggio - ore 16.00
École française de Rome, sede di Piazza Navona
Animali e divinazione
Les animaux dans les rites divinatoires
Giuseppe Minunno, Università degli studi di Firenze
Elementi animali nella divinazione del Levante preclassico.

Daniele Maras, Soprintendenza Archeologia Belle Arti e Paesaggio per l'area metropolitana di Roma, la provincia di Viterbo e l'Etruria meridionale
Uccelli e altri animali ominali in Etruria e nell'Italia centrale di età preromana.

Santiago Montero Herrero, Univesidad Complutense de Madrid
Gli uccelli nella divinazione romana: sacrificio e aruspicina.
Scaricare il programma in pdf →