XVI. Colloquium Hippocraticum - Ippocrate e gli altri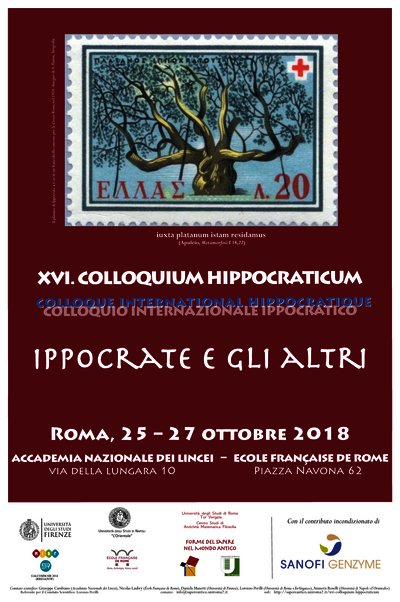 Accademia Nazionale dei Lincei et École française de Rome
From 10/25/2018 to 10/27/2018
A partire dall'inaugurale Colloque Hippocratique di Strasburgo del 1972, dovuto all'iniziativa di Louis Bourgey e Jacques Jouanna, gli studi ippocratici continuano a essere caratterizzati da grande intensità, grazie soprattutto a una comunità di studiosi che si è nel tempo consolidata in rete internazionale. Il prossimo Colloquio romano continua la tradizione e intende offrire una nuova, preziosa occasione di confronto e di aggiornamento.
Il Colloquio avrà come tema Ippocrate e gli altri, e vuole far incontrare specialisti, anche provenienti da campi diversi, che si confrontano con gli scritti ippocratici sia sul piano del contenuto e della forma delle singole opere sia su quello della loro collocazione cronologica, geografica e culturale. Il cosiddetto "Ippocrate" ha radici profonde, e dopo una lunga gestazione nella cultura antica ha continuato per molto tempo a essere vitale: vale la pena dunque sia indagarne le caratteristiche intrinseche – di contenuto, di trasmissione, di lingua e stile, o di ordine autoriale –, sia allargare lo sguardo su ciò che lo ha preceduto e accompagnato, in Grecia e nelle culture circonvicine, che si tratti di letteratura o di filosofia, di 'scienza', di religione e magia, di condizioni politiche, giuridiche ed economiche, della diffusione dei testi e del loro consolidarsi in corpora e canoni.
Programma
Giovedì 25 Ottobre 2018
Accademia Nazionale dei Lincei (via della Lungara 10, Roma)
Sessione mattutina (9-13)
Saluti istituzionali (Accademia dei Lincei; Comitato organizzatore; Prof. Giuseppe Novelli, Rettore dell'Università degli Studi di Roma "Tor Vergata")
(●) Jacques Jouanna (Parigi), Hippocrate et les autres: la conception du climat
(●) Elizabeth Craik (St. Andrews), Doctors and dramatists
(●) Orly Lewis (Gerusalemme), The anatomical and physiological theory of the Hippocratic Περὶ καρδίης
(●) Stavros Kouloumentas (Creta), Tracing the origins of beings: De carnibus on cosmogony and anthropogony
(●) Giulia Ecca (Berlino), Il trattato ippocratico De medico: tra deontologia e chirurgia
(●) Ieva Fibiga (Riga), Metaphor in ancient Greek medical texts and clinical terminology
Sessione pomeridiana (14,30-19)
(●) Markham Geller (Berlino / Londra), Why was there no temple medicine (Asclepieion) in Babylonia?
(●) Lorenzo Perilli, At the roots of genetics and heredity
(●) Daniela Fausti (Siena), L'eredità di Ippocrate nella farmacologia: il diverso approccio di Dioscoride, Plinio il Vecchio, Sorano, Galeno
(●) Matteo Martelli (Bologna), Ippocrate alchimista
(●) Julie Laskaris (Richmond, VA), Learning from the miners: copper in the Greek pharmacological tradition
(●) Florence Bourbon (Parigi), Grain de Cnide et cumin d'Éthiopie: les médecins hippocratiques et les plantes des autres
(●) Paul Demont (Parigi), Note sur trois problèmes «hippocratiques» récemment édités concernant le jeûne
(●) Irene Calà (Berlino) e Serena Buzzi (Torino), Ippocrate nei testi medici della tarda antichità: Oribasio e Aezio Amideno
Venerdì 26 Ottobre 2018
Ecole Française de Rome (Piazza Navona 62, Roma)
Sessione mattutina (9-13)
Saluti istituzionali (Ecole Française)
(●) Philip J. van der Eijk (Berlino), Aristotle's medical project
(●) Ignacio Rodríguez Alfageme (Madrid), Estudio de los compuestos con κατά y παρά en el Corpus Hippocraticum
(●) Nathalie Rousseau (Parigi), "Guillemets" hippocratiques: fonctions des verbes "nommer, appeler" dans le texte scientifique ancien
(●) Paul Potter (Western Ontario), Earliest extant Greek manuscripts of Diseases of Women I-II
(●) Lesley Dean Jones (Austin, TX), Ancient concepts of uterine mole
(●) Marie-Hélène Marganne (Liegi), Les références à l'Égypte dans la collection hippocratique
(●) Tommaso Raiola (Napoli), La chirurgia 'dolce' di Ippocrate nei commenti di Galeno
Sessione pomeridiana (14,30-19)
(●) Peter Pormann (Manchester), Hippocrates and Avicenna: the tale of two commentary traditions
(●) Véronique Boudon-Millot (Parigi), Hippocrate inventeur de la clinique et les médecins clinicoi: Damocrate, Magnos et les autres
(●) María Teresa Santamaría Hernández (Castilla – La Mancha), El De augmento humorum pseudohipocrático: estructura, fuentes y función en la Medicina altomedieval
(●) Mathias Witt (Monaco di Baviera), Aphor., Coac. and Crises: the early compilations of the Hippocratic Corpus as witnesses of the earliest Hippocratic Collection and of lost early Hippocratic treatises
(●) Divna Soleil (Lille), Arétée de Cappadoce critique d'Hippocrate?
(●) Rocío Martínez Prieto (Castilla – La Mancha), Apuntes sobre la transmisión latina de un escrito pseudo-hipocrático: la Capsula eburnea
(●) Joel E. Mann (De Pere, WI), A discourse on method: the skepticism of περὶ φύσιος ἀνθρώπου
(●) Sergio Di Girolamo (Napoli), Il Περὶ φύσιος ἀνθρώπου tra Parmenide e Melisso
Sabato 27 Ottobre 2018
Accademia Nazionale dei Lincei (via della Lungara 10, Roma)
Sessione finale (9-13,45)
(●) Heinrich von Staden (Princeton, NJ), 'Simplicity', 'simple' and their opposites in Hippocratic and Hellenistic medicine
(●) Amneris Roselli (Napoli), L'alimentazione in Affezioni interne
(●) Elsa Garcia Novo (Madrid), To narrate death in classical Greece: the Hippocratic Epidemics, Thucydides and Tragedy's messengers
(●) Jim Hankinson (Austin, TX), The Pseudo-Hippocratic Letters and the Greek self-image of virtue and health
(●) Anna Maria Ieraci Bio (Napoli), Per lo studio dell'umanesimo medico: l'Ippocrate di Giorgio Valla
(●) Gaia Masut (Padova), Prestigio e autorità di Ippocrate nel De difficultate respirationis di Galeno
(●) Marina Diaz Marcos (Castilla – La Mancha), Las referencias a Hipócrates en la traducción latina de Gerardo de Cremona del De simplicium medicamentorum facultatibus de Galeno
(●) Lutz Alexander Graumann (Gießen), The father of clubfoot treatment challenged: The Hippocratic clubfoot revisited. New medical readings of Art. 62 (L. IV 264,2 – 268,1)
Giuseppe Cambiano (Accademia Nazionale dei Lincei) – Nicolas Laubry (Ecole française de Rome) – Daniela Manetti (Università di Firenze e Istituto Papirologico «G. Vitelli») – Lorenzo Perilli (Università di Roma «Tor Vergata») – Amneris Roselli (Università di Napoli "L'Orientale")
Referente per il Comitato scientifico:
Il Colloquio è organizzato da:
Centro Studi «Forme del Sapere nel Mondo Antico»
Università di Roma "Tor Vergata"
in collaborazione con
Accademia Nazionale dei Lincei
Ecole française de Rome
Istituto Papirologico «G. Vitelli»
Università di Firenze
Università di Napoli «L'Orientale»