XIVe Congrès International de Diplomatique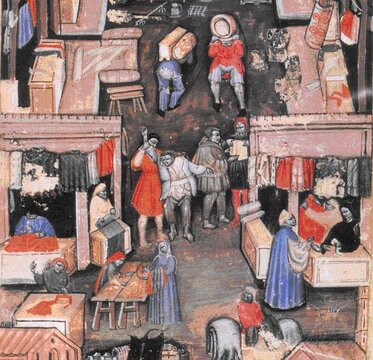 Category :
L'EFR La recherche
Place and date :
la Sapienza-Università di Roma et EFR
From 09/11/2015 to 09/12/2015
Commission Internationale de Diplomatique
École française de Rome
École nationale des chartes
Centre Jean-Mabillon-EA 362
Sapienza-Università di Roma
Dipartimento di Scienze documentarie
linguistico-filologiche e geografiche
XIV CONGRESSO INTERNAZIONALE
XIVe CONGRÈS INTERNATIONAL
I documenti del commercio e dei mercanti
tra medioevo e età moderna (XII-XVII sec.)
Les documents du commerce et des marchands
entre Moyen Âge et époque moderne (XIIe-XVIIe s.)
A cinquant'anni dalla sua costituzione, la Commission Internationale de Diplomatique dedica il suo XIV Congresso ai documenti del commercio e dei mercanti, affrontando per la prima volta in modo organico un tema verso il quale la Diplomatica, soprattutto in Italia, ha da sempre dimostrato un interesse relativo. I diplomatisti, infatti, ad oggi si sono interessati di tale documentazione solo se redatta da mano di notai e solo marginalmente nei casi di autografia mercantile, con la conseguenza che lo studio su questi materiali nel loro complesso è divenuta con il tempo appannaggio quasi esclusivo degli storici dell'economia e del diritto, o degli storici della lingua. Mentre invece tutti i documenti prodotti nell'ambito di transazioni commerciali, che fossero di mano di un notaio o di un mercante indifferentemente, dovevano essere redatti secondo una precisa combinazione di forme interne e esterne, condivisa e riconoscibile a livello locale e su scala internazionale. Potendo quindi contare su un oggetto di ricerca e discussione così diversificato nella sua molteplicità di esempi, si avrà certamente modo di comporre un primo quadro di scritture del commercio in quanto parte del sistema documentario basso medievale e di prima età moderna attraverso una riflessione complessiva intorno ad alcune domande generali e di fondo, tra le quali: con quali forme e finalità giuridiche vengono redatti i documenti commerciali? sul piano dell'efficacia giuridica, esiste un rapporto di analogia e di reciprocità tra il documento mercantile e commerciale redatto da un notaio e quello redatto da altri soggetti? nel complessivo quadro europeo, è possibile procedere a un comparazione che tenga conto, in diacronìa e in sincronìa, della molteplicità tipologica?