Table ronde des Écoles françaises à l'étranger sur "Le ciment des empires"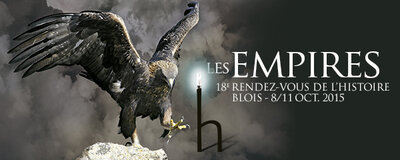 Place and date :
Blois
The 10/08/2015 from 18 h 30 at 20 h 00
LE CIMENT DES EMPIRES
TABLE RONDE
Le 8 octobre 2015, de 16h30 à 18h
SALLE GASTON D'ORLÉANS, CHÂTEAU ROYAL DE BLOIS

Carte Blanche aux Écoles françaises de l'étranger aux 18e Rendez-vous de l'Histoire à Blois

TABLE RONDE avec Michel BERTRAND, directeur de la Casa de Velázquez, Alexandre FARNOUX, directeur de l'École française d'Athènes, Luca GIBBIANI, maître de conférences à l'École française d'Extrême-Orient, Emmanuel LAURENTIN, journaliste et producteur de La Fabrique de l'histoire (France Culture), Nicolas MICHEL, directeur des études de l'Institut français d'Archéologie Orientale, Catherine VIRLOUVET, directrice de l'École française de Rome.

Qu'est-ce qui a permis à des groupes humains d'en dominer d'autres sur de très vastes espaces et parfois de très longues durées ? Force ou organisation ? Exploitation ou partage des richesses ? Répression ou conviction ? Ségrégation ou intégration des vaincus ?
Voir le programme complet des rendez-vous de Blois →