Superis Deorum Gratus et Imis. Tavola Rotonda in onore di János György Szilágyi (1918 – 2016)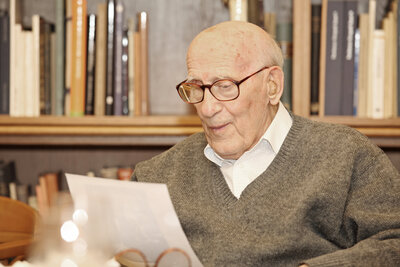 Place and date :
En ligne
The 02/25/2021 from 16 h 30 at 19 h 30
Maître d'importance incontestable dans le champ de l'archéologie classique, internationalement reconnu comme l'un des chercheurs déterminants pour l'étruscologie moderne, János György Szilágyi fut aussi une figure centrale des études classiques en Hongrie pendant la deuxième moitié du XXe siècle. Le volume 2018 de la revue Mediterranea, consacré à sa mémoire est paru en coïncidence avec le centenaire de sa naissance. La table ronde internationale reviendra sur les thèmes et les problèmes scientifiques traités dans le volume et, en même temps, donnera occasion de repenser encore une fois l'hérédité de ce grand savant.
---
Maestro di importanza indiscutibile dell'archeologia classica, riconosciuto a livello internazionale soprattutto come uno degli autori fondamentali dell'etruscologia moderna, János György Szilágyi (1918-2016) fu anche la figura centrale degli studi classici in senso universale nell'Ungheria della seconda metà del Novecento. Il volume dell'anno 2018 della rivista Mediterranea, dedicato alla sua memoria è stato pubblicato anche in coincidenza con il centenario della sua nascita. La tavola rotonda rintraccerà i temi e le problematiche trattati nel volume e, nello stesso tempo, offrirà occasione di riconsiderare, ancora una volta, l'eredità lasciataci da questo grande Maestro della ricerca.
Organisateurs : Ágnes Bencze (Université catholique Péter Pázmány), Vincenzo Bellelli (CNR ISPC)
En partenariat avec : CNR ISPC, Szépművészeti Múzeum (Budapest), Accademia d'Ungheria in Roma
Programme
16h30 - Salutations et introduction
Brigitte Marin, directrice de l'École française de Rome
Nicolas Laubry, directeur des études, Section Antiquité, École française de Rome
Marianna Dági, chef du Département des Antiquités Classiques, Szépművészeti Múzeum
Gyöngyi Komlóssy, secrétaire scientifique de l'Académie hongroise de Rome
Ágnes Bencze, maîtresse de conférences de l'Université catholique Péter Pázmány, chercheuse résidente à l'EFR
17 h - L'hérédité de János György Szilágyi et l'idée d'une initiative scientifique en sa mémoire
Árpád M. Nagy, ancien Chef du Département des Antiquités classiques et co-éditeur du volume
Vincenzo Bellelli, directeur d'études du CNR ISPC, co-éditeur du volume
17h30 - Présentation du volume Mediterranea 2018
Maurizio Harari, Università di Pavia, Figure etrusche
Carlo Rescigno, Università della Campania, Tra Grecia e Magna Grecia
Françoise Gaultier, Musée du Louvre, Szilágyi, le Louvre et la céramique étrusque
19h Discussion
Informations pratiques
La table ronde se tiendra le jeudi 25 février 2021 en ligne sur la plateforme BigBlueButton. Merci de vous inscrire ici pour recevoir le lien vers la conférence.
Contact: secrant(at)efrome.it
Télécharger le programme / Scaricare il programma →
Projection après la table ronde
Le film Orphé et Eurydice (1985), inspiré de l'opéra de Christoph Willibald Gluck et dirigé par István Gaál, sera disponible en ligne pendant 24h, du jeudi 25 février 19h au vendredi 26 février 19h. Pour assister à la projection, merci de vous inscrire au groupe fermé FACEBOOK « Cinema Accademia d'Ungheria in Roma » (https://www.facebook.com/groups/3049325601840401), où vous trouverez des actualités sur le film et le mot de passe pour le visualiser. L'opéra est en italien, avec sous-titres en anglais.
--
Il film Orfeo ed Euridice (1985), tratto dall'opera lirica di Christoph Willibald Gluck e diretto da István Gaál, sarà disponibile in esclusiva online per 24 ore, tra giovedì 25 febbraio ore 19.00 e venerdì 26 febbraio ore 19.00 in onore della tavola rotonda. La proiezione sarà accessibile tramite iscrizione al Gruppo chiuso FACEBOOK "Cinema Accademia d'Ungheria in Roma" (https://www.facebook.com/groups/3049325601840401), dove saranno pubblicate la password di accesso e ulteriori anticipazioni sul film in arrivo. L'opera è in italiano, con sottotitoli in inglese.