Rome 10th Century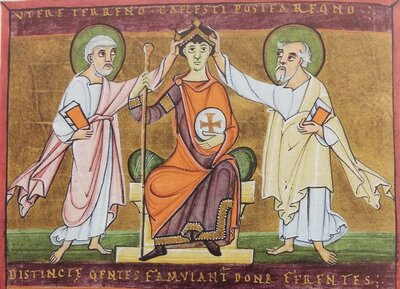 Colloque
Rome
From 06/06/2023 to 06/10/2023
The conference aims to draw the attention of the scientific community to the history and history of art in Rome during the 10th century, to fill the many existing historiographical and methodological gaps.
The Roman 10th Century has been near overshadowed by the interest aroused by the previous Carolingian period and the subsequent so-called age of the Reformation. About art history, the historiographical picture is perhaps even more critical. Our conference aims not only to fill the many existing gaps, but above all to propose a comprehensive study of the various historical and artistic aspects of 10th century Rome in the contemporary European context, suggesting new paths of research on a period that is fundamental for understanding the whole Middle Ages.
The conference, which will take place in Rome, at the Sapienza University, the École française de Rome, and the Hertziana Library, from 6 to 10 June 2023, will be attended by almost 70 scholars, historians and art historians, who will discuss various aspects of Roman history and artistic production in the 10th century, divided into 9 thematic sections.
PROGRAM DOWNLOAD: HERE
Admission of the public is open, but subject to seats being available.
June 7 it is also possible to follow the program online : https://vimeo.com/event/3390288 (Vimeo Channel / Bibliotheca Hertziana)


Scientific Organization: Xavier Barral i Altet, Manuela Gianandrea, in collaboration with Bibliotheca Hertziana, École française de Rome, Sapienza Università di Roma, Università degli Studi di Napoli Federico II.