REPORTÉ - Decapitate. Tre donne nell'Italia del Rinascimento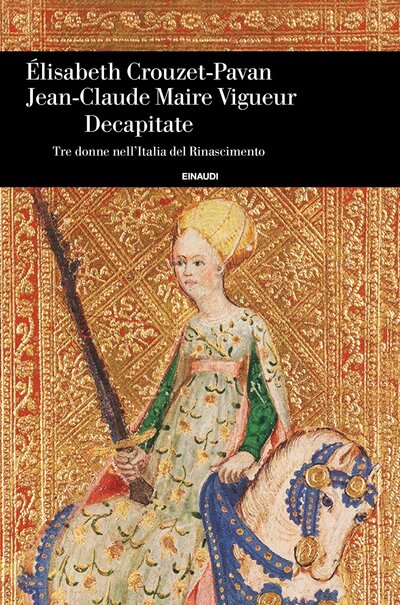 Place and date :
École française de Rome, Piazza Navona 62
The 03/24/2020 from 18 h 00 at 20 h 00
Evento rinviato a data da destinarsi. Le nuove date saranno annunciate appena possibile.
Decapitate. Tre donne nell'Italia del Rinascimento (Einaudi, 2019)
di Élizabeth Crouzet-Pavan, Jean-Claude Maire Vigueur


Tra il 1391 e il 1425 tre donne sono decapitate per ordine dei loro mariti. Spose di tre fra i piú importanti signori dell'Italia del Rinascimento – di Mantova, Milano, Ferrara – Agnese Visconti, Beatrice di Tenda e Parisina Malatesta sono condannate a morte per adulterio. Eppure nessuna donna infedele subiva allora un tale castigo; inoltre, altra stranezza, invece di dissimulare tale condanna alla pena capitale, i tre signori la resero, al contrario, pubblica. Si tratta di un enigma storico che Élisabeth Crouzet-Pavan e Jean-Claude Maire Vigueur intendono svelare. Certamente queste tre donne hanno tradito i loro mariti, ma sono soprattutto colpevoli di aver tentato di prendere parte alle grandi innovazioni culturali e politiche del loro tempo. Sono punite per aver voluto trasgredire lo statuto tradizionalmente scialbo di «sposa del signore». Condannandole a morte, i loro mariti riaffermano simbolicamente il loro potere di principi.
Interventi di :
Benedetta Borello (Università di Cassino)
Amedeo De Vincentiis (Università della Tuscia)
Maria Antonietta Visceglia (Sapienza - Università di Roma)
Voir le livre sur le site Einaudi →
Voir l'événement sur facebook →