Rencontres scientifiques de l'EFR - de janvier à juillet 2019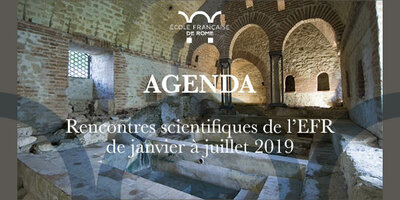 Category :
La recherche Séminaires
Place and date :
Albi, Barcelone, Capri, Colmar, Madrid, Nantes, Naples, Pise, Rome, Venise
From 01/01/2019 to 07/10/2019
INFORMATIONS PRATIQUES
Les manifestations organisées à l'École française de Rome se déroulent au 62, place Navone à Rome. Sauf mention contraire, l'entrée est libre (sans réservation), dans la limite des places disponibles.
Vous pouvez retrouvez le détail des rencontres est en ligne sur le site de l'EFR quinze jours avant.
Attention le programme de rencontres scientifiques peut être modifié.


Page mise à jour le 20/12/2018