Reconstruire / Restaurer Rome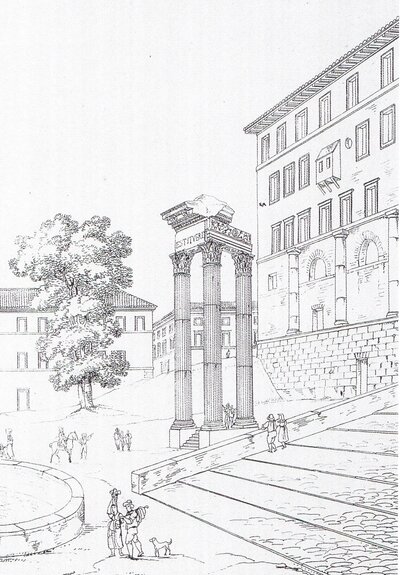 Category :
La recherche Ressources multimedia
Place and date :
École française de Rome et Sapienza Università di Roma
From 10/30/2019 at 10 h 00 to 10/31/2019 at 19 h 30
Reconstruire / Restaurer Rome.
La rénovation des bâtiments et des espaces de la ville comme politique urbaine, de l'Antiquité à nos jours.
Partout dans Rome, les monuments sont couverts d'inscriptions, antiques ou modernes, qui ne rapportent pas uniquement le nom de leur constructeur, mais célèbrent leur restauration. Les empereurs romains, les papes de la Renaissance ou encore le régime fasciste se sont souvent présentés comme des restaurateurs, quand bien même ils modernisaient la ville. Rome apparaît comme une ville qu'il faut sans cesse restaurer, reconstruire, faire renaître. Dans la veine des études sur le patrimoine et la mémoire dans l'espace urbain, sur la résilience des villes après des catastrophes, cette rencontre a pour but d'étudier comment, durant toute l'histoire de Rome, de l'Antiquité au XXIe siècle, les notions de restauration ou de reconstruction ont été à la fois un moteur de l'urbanisme romain, un programme politique des pouvoirs publics et un idéal partagé ou non par les différents acteurs de la ville.

Organisateurs : Bruno Bonomo (Sapienza Università di Roma), Charles Davoine (École française de Rome), Cécile Troadec (Centre Roland Mousnier).
Mercredi 30 octobre 2019 – École française de Rome (salle de conférences)
9h Accueil ( Brigitte Marin, directrice de l'École française de Rome)
9h15 Introduction (Bruno Bonomo, Charles Davoine, Cécile Troadec)
9h30-13h15: Session 1 - présidence Amanda Claridge (Royal Holloway, University of London)
Marietta Horster (University of Mainz) : Rebuilding in imperial and late antique Rome: the development of the judicial framework in its political setting.
Bertrand Cahut (USPC, Paris XIII) : Restaurer ou reconstruire le Capitole ? Enjeux des restaurations et investissement flavien de la colline sacrée de Rome.
Rita Volpe (Sovrintendenza Capitolina ai Beni Culturali) : I quarant'anni che sconvolsero il Colle Oppio: trasformazioni urbane dall'incendio neroniano alla costruzione delle Terme di Traiano.
Pause
Paola Ciancio Rossetto (già Sovrintendenza Capitolina ai Beni Culturali) : Il portico d'Ottavia: un monumento eccezionale, esempio significativo di ricostruzioni prestigiose ad opera di Augusto e Settimio Severo.
Maria Grazia Cinti (Università di Roma Tor Vergata) : Gli edifici di Settimio Severo a Roma tra restauri e nuove costruzioni.
Discussion
14h30-18h30 Session 2 – Présidence Jean-Claude Maire Vigueur (Università Roma Tre)
John Fabiano (University of Toronto) : A Return to Rome's Rebuilding Inscriptions: the Social and Economic Cost of Rebuilding in Fourth-Century CE Rome.
Andrew Wallace-Hadrill (University of Cambridge) : Antiqua in nitorem pristinum contineas et nova simili antiquitate producas: Restoration versus Modernization in the Rome of Cassiodorus.
Maxime Emion (Université du Havre) : Rome forteresse. Reconstruire la Ville pendant la Guerre gothique.
Pause
Riccardo Santangeli Valenzani (Università Roma Tre) et Andrea Antonio Verardi (Sapienza Università di Roma) : La politica monumentale dei papi "carolingi": lo spazio cittadino tra continuità e rifunzionalizzazione tra Adriano I (772-795) e Leone IV (847-855).
Dario Internullo (Università Roma Tre) et Mariele Valci (University of Nottingham) : Luoghi di potere e di memoria. La politica monumentale del Senato romano tra i secoli XII e XIII.
Discussion
Jeudi 31 octobre 2019 – Sapienza Università di Roma, Facoltà di Lettere e Filosofia (sala Odeion)
9h30-13h15 Session 3 – Présidence Maria Antonietta Visceglia (Sapienza Università di Roma)
Pierre-Bénigne Dufouleur (Sorbonne Université) : Restaurer la ville, instaurer un lignage : La politique édilitaire des della Rovere à Rome au Quattrocento.
Giada Lepri (Sapienza Università di Roma) : Progettare il moderno, evocare l'antico: Leone X, Raffaello e la nascita del Tridente romano.
José Carlos Miralles Maldonado (University of Murcia) : Roma vetus vs Roma nova: restoration and propaganda in the Papal court in Counter-Reformation Rome.
Pause
Adrián Almoguera (École française de Rome) : Renovatio Urbis. La restauration urbaine comme projet politique dans la Rome du Premier Empire (1809-1814).
Ilaria Fiumi Sermattei (Pontificia Università Gregoriana) : Ricostruire la basilica / restaurare la Chiesa. Il dibattito sul cantiere di San Paolo fuori le mura come specchio della riflessione politica.
Discussion
14h30-18h15 Session 4 – Présidence Vittorio Vidotto (Sapienza Università di Roma)
Clara Di Fazio (Sapienza Università di Roma) et Andrea Grazian (Sapienza Università di Roma) : Da Massenzio a Mussolini. La ricostruzione politica di uno spazio urbano alle pendici della Velia.
Sofia Greaves (University of Cambridge) : Ideals of the ancient city: the intersect of archaeology and urban planning in Rome (1870-1914).
Fernando Salsano (Università di Roma Tor Vergata) : Il rinnovamento urbano nella Roma fascista: gli sventramenti nell'area dei Fori imperiali.
Pause
Maddalena Carli (Università di Teramo) : Esporre il presente nei luoghi del passato romano. I padiglioni fascisti al Circo Massimo (1937-1939).
Lidia Piccioni (Sapienza Università di Roma) : Il programma "100 piazze": dal progetto alle realizzazioni (1994-2010 ca.).
Discussion
18h15-18h30 Conclusions
Image : Gravure, Études statistiques sur Rome et la partie occidentale des États Romains,
comte de Tournon, Paris, Treuttel et Würtz, atlas, pl. 20.
Boulogne-Billancourt: Bibliothèque Marmottan.
Téléchargez ici le programme/Scaricate qui il programma
Écouter :
Si le lecteur audio ne s'affiche pas ci-dessous, vous pouvez écouter les interventions sur Soundcloud