Pompei: Villa di Diomede – su il sipario! Cantiere in scena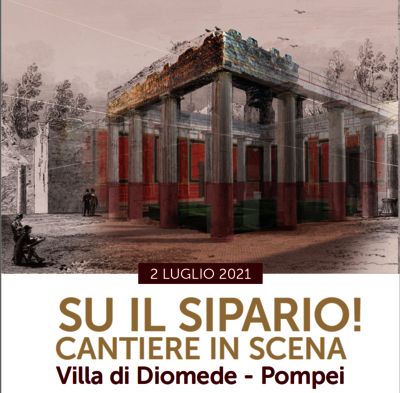 Category :
Centre Jean Bérard La recherche
Place and date :
Pompei
The 07/02/2021 from 10 h 30 at 17 h 30
In scena i restauri in corso e i recenti studi sulla Villa
2 luglio 2021
APERTURA DEL CANTIERE AL PUBBLICO
ore 10.30 - 15.30
I visitatori potranno accedere per la visita al cantiere, accompagnati dai tecnici e restauratori. La durata della visita, per massimo 5 visitatori alla volta, sarà di circa 15 minuti. Non è necessaria prenotazione. Ingresso: via dei Sepolcri.
PRESENTAZIONE DEL LIBRO
ore 16.30
The Villa of Diomedes: The making of a Roman villa in Pompeii, coordinato da Helene Dessales (École normale supérieure, AOROC, UMR 8546, PSL Research University).
Interverranno: Massimo Osanna, Direttore Generale dei Musei, Gabriel Zuchtriegel Direttore del Parco archeologico di Pompei, Annamaria Mauro, Direttore dei lavori, Claude Pouzadoux, Direttrice del Centre Jean Bérard, Priscilla Munzi Direttrice aggiunta del Centre Jean Bérard, Hélène Dessales Coordinatrice del progetto di ricerca (ENS, AOROC) e curatrice del libro, Elvira Boglione e Pasquale de Marco Rappresentanti delle imprese esecutrici.