Lettere, corrispondenze, reti epistolari: a che punto siamo?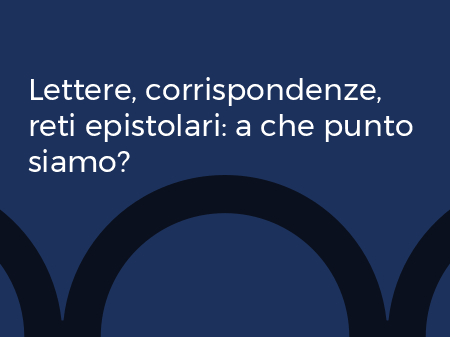 Place and date :
Rome, Koninklijk Nederlands Instituut Rome et École française de Rome
From 11/08/2018 to 11/09/2018
Nel quadro del programma di ricerca quinquennale Lettres d'artiste. Pour une nouvelle histoire transnationale de l'art XVIIIe-XIXe siècle dell'École française de Rome, l'EFR e il Reale Istituto Neerlandese di Roma (KNIR) accolgono un convegno internazionale interdisciplinare che si propone come una occasione di bilancio e di riflessione critica sui diversi ambiti di ricerca che privilegiano lo studio delle corrispondenze tra XVI e XIX secolo. Negli ultimi decenni si è assistito a un rigoglioso sviluppo degli studi sulle corrispondenze. Le ragioni di tale interesse sono di ordine diverso, quali l'approccio transnazionale alla storia europea e l'affermazione della storia connessa; l'interesse per tutte le forme di circolazione e di mobilità; il rinnovamento degli studi sulla comunicazione e l'informazione; il practice turn; le nuove tecniche informatiche di analisi di rete; lo sviluppo delle digital humanities... Il fenomeno è visibile in moltissime aree disciplinari, che tuttavia sono piuttosto distinte. L'obiettivo del convegno è dunque di tracciare lo stato dell'arte e valutare risultati, progetti in corso, prospettive future e problemi interpretativi e metodologici ancora aperti.