Les règles des lieux. Espaces, institutions et société dans la ville moderne (XVIe-XVIIIe siècles).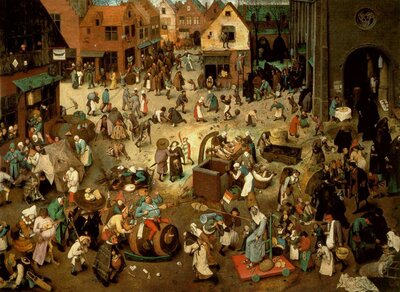 l'École française de Rome
From 09/08/2016 to 09/10/2016
Colloque organisé par Diego Carnevale (Birkbeck, University of London), Domenico Cecere (Aix-Marseille Université, A*Midex) et Elodie Oriol (Sapienza Università di Roma)
Les règles des lieux. Espaces, institutions et société dans la ville moderne (XVIe-XVIIIe siècles)
Le colloque a pour objectif de réfléchir au rapport entre l'espace urbain et les systèmes réglementaires élaborés pour le gérer dans l'Europe moderne (XVIe-XVIIIe siècles) à partir de la mise en comparaison de plusieurs études de cas. Il s'inscrit dans une histoire des institutions et des sociétés urbaines en proposant de s'intéresser à la matérialité de l'espace. Il vise à explorer le rôle et la fonction des règles, formelles et informelles, qui jouaient dans la manipulation et dans l'usage des espaces urbains, ainsi que les multiples façons dont la matérialité du territoire a contribué à structurer cet univers de règles, en influençant les relations des différents acteurs institutionnels et sociaux.
École française de Rome, du 8 au 10 septembre 2016
Le regole dei luoghi. Spazi, istituzioni e società nella città moderna (secoli XVI-XVIII)
Il convegno si pone l'obiettivo di riflettere sui rapporti tra gli spazi urbani e i sistemi di regole elaborati per gestirli nell'Europa moderna (secoli XVI-XVIII) a partire dal confronto tra una pluralità di studi di caso. La storia delle istituzioni e delle società urbane è stata messa in relazione con lo studio della materialità dello spazio. Pertanto, il convegno porrà al centro dell'attenzione, da un lato, il ruolo e la funzione delle regole – formalizzate e non – nella configurazione e nell'uso degli spazi cittadini; dall'altro, i diversi modi in cui la materialità del territorio ha contribuito ad articolare questo universo di regole, modificando le relazioni tra i differenti attori istituzionali e sociali.
École française de Rome, dal 8 al 10 settembre 2016
The Rules of the Spaces. Places, Institutions and Society in Early Modern Cities (16th-18th centuries)
The conference aims to explore the relationships between urban spaces and the systems of rules that were established to manage them, from the 16th to 18th centuries, through the comparaison of a plurality of case studies. Participants have been invited to deal with the history of urban institutions and societies by paying major attention to the materiality of the space, in order to investigate the role played by rules – both formal and informal – in using and manipulating urban territories. Moreover, several papers explore the multiple ways in which the physical conformation of a territory shaped the system of rules, by affecting the relationships among various social and institutional actors.
École française de Rome, 8 - 10 september 2016
Télécharger le programme en pdf