Les provinciaux au service de l'empire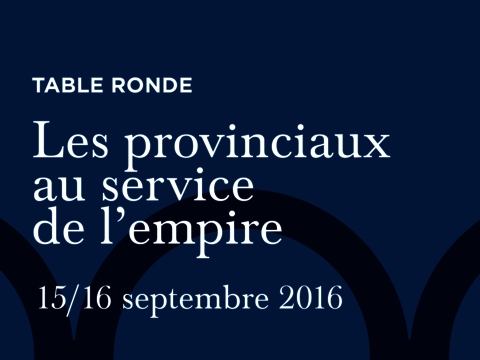 Category :
La recherche Formations
Place and date :
l'École française de Rome
From 09/15/2016 to 09/16/2016
Les provinciaux au service de l'empire
Table ronde
Cette rencontre constitue la conclusion d'une semaine de formation doctorale en épigraphie latine placée sous le patronage scientifique du Comité des rencontres franco-italiennes d'épigraphique du monde romain.
Durant quatre jours, seize doctorants ayant déjà reçu une première initiation à l'épigraphie au sein de leur université ont assisté à des leçons et ont effectué des visites dans les collections des grands musées romains sous la conduite de professeurs des universités italiennes et françaises.

Étant donnée la composition de ces collections, le thème retenu pour cette semaine de formation a été celui des « Carrières au service de l'empire ». Il a semblé judicieux, pour conclure l'atelier, de réunir une table ronde sur un thème lié, celui des « Provinciaux au service de l'empire », pour que les doctorants aient ainsi en fin de formation un exemple concret de mise en oeuvre des documents épigraphiques au service de la recherche.

Télécharger le programme en PDF