"Le pouvoir de se réunir en son corps". La Compagnie de Jésus de la Suppression (1773) à son Rétablissement (1814)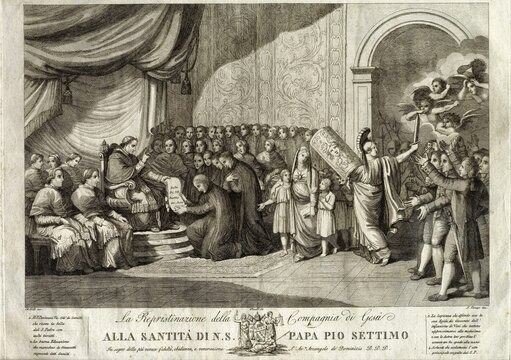 Place and date :
Rome
From 11/06/2014 at 10 h 00 to 11/09/2014 at 00 h 00
Rétablie en 1814 par le Pape Pie VII à son retour à Rome dans le contexte des restaurations politiques post-révolutionnaires, la Compagnie de Jésus avait été supprimée en 1773 par le Pape Clément XIV dans un tout autre univers politique et culturel.
Le colloque international réuni à Rome à l'occasion du bicentenaire de l'année 1814 proposera les résultats d'un ensemble de recherches sur la crise de la fin du XVIIIe siècle, le temps mal connu encore de l'intervalle entre "deux Compagnies" et le retour progressif des jésuites au XIXe siècle. Un ensemble de recherches qui ouvrent aussi une vaste perspective, d'horizon mondial, sur la transition entre l'époque moderne et l'époque contemporaine.
La présence au colloque est gratuite, mais doit se faire préalablement par inscription à l'adresse suivante: http://www.unigre.it/eventi/Ricostituzione/index.php.