Le métier de peintre en Europe au XVIe s. : techniques et pratiques d'atelier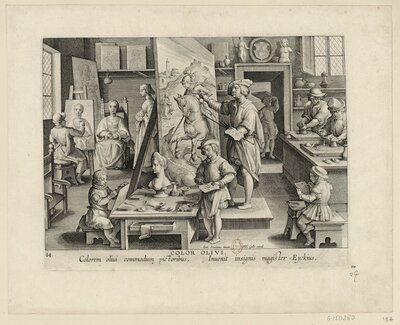 Place and date :
Perpignan, Université Perpignan-Via Domitia et Centre de conservation et de restauration du patrimoine des Pyrénées-Orientales
From 10/10/2018 to 10/11/2018
Org. Michel Hochmann, Guy-Michel Leproux et Audrey Nassieu Maupas (EPHE)
Après avoir examiné, les années précédentes, les questions liées à la population des peintres, à la réglementation du métier et à la formation des artistes, la quatrième journée d'études du programme Pictor abordera les techniques. En confrontant les informations tirées des sources d'archives et celles fournies par les analyses scientifiques des œuvres, on s'interrogera, à l'échelle européenne, sur les particularités locales et les transferts de savoir-faire.
Illustration: Color Olivi, gravure d'après Jan Van Der Straet, fin du XVIe siècle