La guerre des sables. La Seconde Guerre mondiale en Afrique du Nord (1940-1943)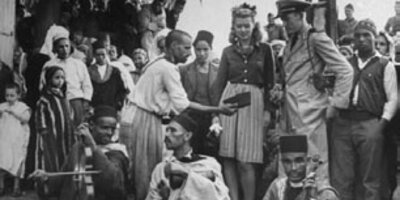 Place and date :
Madrid
From 10/17/2014 at 00 h 00 to 10/18/2014 at 00 h 00
Coordination
Olivier Wieviorka (École normale supérieure de Cachan)
Organisation
École des Hautes Etudes Hispaniques et Ibériques (Casa de Velázquez, Madrid), École normale supérieure de Cachan, École française de Rome, Deutsches Historisches Institut in Paris, Deutsches Historisches Institut in Rom

Lieu
Casa de Velázquez
C/ de Paul Guinard, 3
28040 Madrid
Présentation (en anglais)
From 1940 to 1943, decisive operations took place in North Africa. In this harsh campaign Allied armies confronted German and Italian forces, engaging in decisive battles at Tobruk, at El Alamein, in the waters off Cape Bon or during the Allied landings of November 1942. This conflict left an enduring mark on national memories: Rommel and Montgomery became heroes, even myths. The Free French constructed legends around the exploits of Leclerc and Koenig: the oath of Koufra and the victory of Bir Hakeim. This myth-making had its reverse, however: the supposed weakness of the Italian Army would become an enduring source of mockery and ridicule, while revisionist historians endeavoured to detract from Montgomery's talents and to sideline the importance of El Alamein. If Operation Torch allowed for the liberation of Algeria and Morocco, it struggled to free Tunisia and immobilised the Anglo-American troops in the Mediterranean Theatre, thus delaying Operation Overlord.

This project seeks to revitalise the history of the war in the desert by providing a much-needed global perspective on this theatre of operations. National historiographies have certainly done much of the groundwork but they have remained prisoners of their national frameworks and have almost wholly neglected the point of view of the adversary. In addition, this project seeks to transcend the preoccupations of 'traditional' military history. Military operations will certainly be studied: it will be necessary to analyse the nature of the combat and thus to investigate the strategies adopted, the merits of the leaders, the resolve of men and the conduct of the operations. But the project also intends to broaden the investigation beyond the battlefield. It aims at a better understanding of the diplomatic context, such as the relations between Rome and Berlin or the divergences opposing London and Washington. It hopes to cast new light on the colonial dimension of this war by investigating the relations established between colonisers and colonised peoples during wartime and, in particular; by assessing the impact of the intrusion of newcomers (the Germans on the one hand, the Anglo-Americans on the other). This approach will allow for greater reflection on the phenomenon of acculturation aroused by these encounters. It also intends to assess the overall colonial contribution to the war effort (whether voluntary or compelled).
Programme
VENDREDI 17 OCTOBRE

10h
Ouverture
Michel BERTRAND, Directeur de la Casa de Velázquez

Olivier WIEVIORKA, École normale supérieure de Cachan

10h30-13h
EXPERIENCING A NEW KIND OF WAR

Préside
Nicola LABANCA, Università di Siena

Peter GRAY, University of Birmingham
The Royal Air Force in the Desert War

Lars HELLWINKEL
Gymnasium Athenaeum Stade
Kriegsmarine and the War in North Africa

Débat

Pause

Fabio DE NINNO, Università di Turino
Italian Logistics, at odds under Allied Bombs, between Sicily and Libyan Coasts (« la battaglia dei convogli »)


Iain JOHNSTON, University of Cambridge
Independence and Interdependence: the Dilemmas of the Dominion Units in the British Eighth Army

Débat

15h-17h
WAR VIOLENCE

Préside
David REYNOLDS, University of Cambridge

Peter LIEB (to be confirmed), Royal Academy of Sandhurst
German Fighting in North Africa: a Clean War?

Martin CÜPPERS
University of Stuttgart
Nazi Plans for the Extermination of Jews in North Africa

Débat

Julie LE GAC (to be confirmed), École normale supérieure de Cachan
Looting and Repression: the Troubled Liberation of Tunisia (1943)

Rüdiger OVERMANS, Universität Freiburg
German Prisoners of War

Débat

Pause

17h30-19h
MEMORIES OF THE DESERT WAR

Préside
Olivier WIEVIORKA, École normale supérieure de Cachan

Jorg ECHTERNKAMP, Martin-Luther-Universität Halle-Wittenberg/Zentrum für Militärgeschichte und Sozialwissenschaften der Bundeswehr (Potsdam)
North Africa: A Forgotten Theatre of War? Identity, Legitimization and the Shifts in German Memory Culture since 1945

Patrick BERNHARD, University College, Dublin
Prosecuting Italian War Criminals and Writing the History of the Desert War

Agostino BISTARELLI, Giunta Centrale per gli Studi Storici
Memories of the Italian Prisoners of War

Débat


SAMEDI 18 OCTOBRE

9h30-10h30
THE IMPACT OF THE DESERT WAR ON LOCAL POPULATION

Préside
François DUMASY, École française de Rome

Daho DJERBAL
Université Alger 2
Alliances et mésalliances entre nationalistes algériens et parties en conflit durant la Seconde Guerre mondiale

Fayçal CHERIF
Institut supérieur d'histoire du mouvement national (Tunis)
The Desert War and the Rise of Tunisian Nationalism

Débat

Pause

11h-12h30
DIPLOMACIES AT WAR

Préside
Patrick BERNHARD, University College, Dublin

Haim SAADOUN, Open University and Ben Zvi Institute (Israel)
Operation Torch. International Relations, Spying and Resistance in Algeria

David REYNOLDS, University of Cambridge
British and American Allies and the Experience of the Desert War

Albert SALUENA, Universidad Autónoma de Madrid
The Spanish Army in Morocco. Its influence in the Mediterranean during the Second World War

Débat
12h30-13h
Débat général

COMITE SCIENTIFIQUE
François DUMASY (École française de Rome), Nicola Labanca (Università di Siena), Stefan Martens (Deutsches Historisches Institut Paris), David Reynolds (University of Cambridge), Olivier Wieviorka, Julie Le Gac (École Normale Supérieure de Cachan)
---
Voir aussi