Knowledge and Culture in Times of Threat: Europe around 900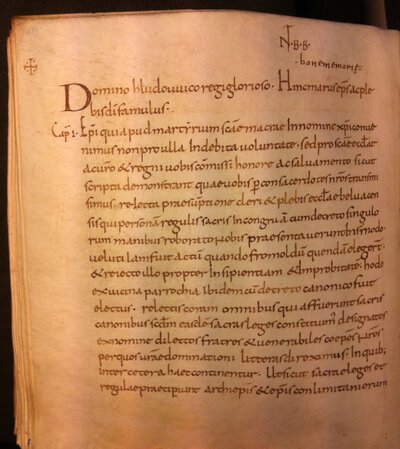 Place and date :
École française de Roma, Piazza Navona, 62
From 05/04/2018 to 05/05/2018
Les 4 et 5 mai 2018 à l'École française de Rome (piazza Navona 62) se tiendront les journées d'études
Knowledge and Culture in Times of Threat : Europe around 900
Organisées par Pierre Chambert-Protat (EFR), Steffen Patzold (Eberhard Karls Universität Tübingen) et Warren Pezé (Université Paris-Est Créteil).
Knowledge and Culture in Times of Threat: Europe around 900
Dans l'historiographie traditionnelle, le renouveau culturel carolingien subit une éclipse d'un siècle au moment où commencent, dans les années 880, le « premier âge féodal » de Marc Bloch et le « secolo di ferro » de Cesare Baronio, dont les effets se feraient sentir aussi bien dans le monde des écoles que dans la production des capitulaires et des chartes.
Dans la continuité carolingienne, les années charnières 875-925 permettent d'observer comment les infrastructures culturelles (échanges épistolaires, patronage épiscopal, enseignement, production manuscrite) s'adaptent à l'ordre carolingien menacé (dislocation politique, crise dynastique, régionalisation, invasions normandes et hongroises). Dans cette crise, la culture joue un triple rôle : descriptif — les sources d'histoire politique émanent du clergé — ; prescriptif — en posant son diagnostic, cette élite impose un modèle de conduite et de gouvernement — ; et actif — la liturgie et le culte des saints conjurent les forces du mal, les textes façonnent performativement le nouvel ordre qu'ils décrivent. Pour comprendre les transformations sociales et politiques du monde carolingien, il faut les situer par rapport à ces transformations culturelles.
Cette rencontre entend cartographier continuités et ruptures à l'échelle de tout l'espace franc, au moyen d'une série d'études locales couvrant l'ensemble de l'ancien espace carolingien (Francie Occidentale, Lorraine, Bourgogne, Lac de Constance, Italie du Nord) et en balayant les sources aussi bien éditées que manuscrites et inédites (florilèges, manuscrits scolaires, notes marginales et gloses), sans oublier la liturgie souvent négligée (notation neumatique).
Télécharger le programme / Download the programme / Scaricare il programma