Jacques Le Goff et l'Italie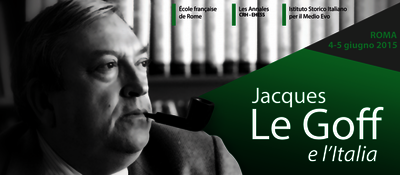 Place and date :
l'Ecole française de Rome et à l'Istituto Storico Italiano per il Medio Evo
From 06/04/2015 to 06/05/2015
« Ho avuto tre patrie: la Francia, la Polonia (dove ho conosciuto mia moglie) e l'Italia, che ha occupato sempre un posto particolare nel mio cuore »


« Approdai a Roma, meraviglia delle meraviglie »


« In quanto membro dell'école française ho abitato prima a Palazzo Farnese e dopo a Piazza Navona: come essere in paradiso… Ci passai un anno prima di sposarmi e fu forse uno dei più belli della mia vita… »


« Ero molto vicino ai grandi medievisti italiani, per esempio Arsenio Frugoni, autore della bellissima biografia di Arnaldo da Brescia… »
Jacques Le Goff

Le programme du colloque peut être consulté ici
NB :
L'inscription au colloque (dans la limite des places disponibles) est obligatoire. Elle devra parvenir par mail au secrétariat des études médiévales de l'École française de Rome (secrma(at)efrome.it) avant le 31 mai au plus tard. La première session, le jeudi 4 juin, aura lieu au Palais Farnese. Pour des raisons de sécurité, l'accès au Palais Farnese sera consenti uniquement de 9h00 à 9h25 sur présentation d'un document d'identité.

È obbligatoria la registrazione (fino all'esaurimento dei posti disponibili) via mail a secrma(at)efrome.it entro e non oltre il 31 maggio. La prima sessione, il giovedi 4 giugno, avrà luogo a Palazzo Farnese. Per ragioni di sicurezza, l'accesso a Palazzo Farnese è consentito dalle ore 9.00 alle ore 9.25 con un documento di identità.