Incontro finale del progetto PerformArt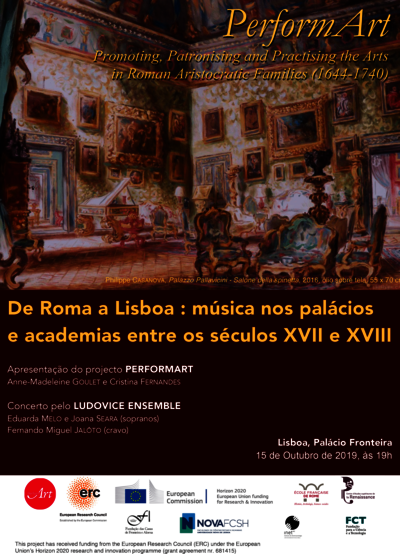 Lisbona, Palácio Fronteira e Universidade Nova
From 10/14/2019 to 10/16/2019
Dal 14 al 16 ottobre si svolgerà l'incontro finale del progetto PerformArt, ospitato nel Palácio Fronteira e nell'Universidade Nova di Lisbona, organizzato da Anne-Madeleine Goulet (Principal Investigator) e Michela Berti (Coordinatrice delle attività scientifiche).
Questa riunione di lavoro a porte chiuse sarà finalizzata alla preparazione del volume finale del progetto, intitolato Spectacles and Aristocratic Magnificence in Rome (1644-1740): social, political, ethical and economic issues.
Oltre all'équipe PerformArt, parteciperanno: Renata Ago, storica (Università Sapienza); Jean Boutier, storico (École des Hautes Études en Sciences Sociales); Roberto Ciancarelli, specialista di studi teatrali (Università Sapienza); Rémy Campos, musicologo (CNSM de Paris -Haute École de Musique de Genève); Maria de Lurdes Rosa, storica (Universidade Nova de Lisboa); Natalia Gozzano, storica dell'arte (Accademia Nazionale di Danza di Roma); Guido Guerzoni, economista (Università Bocconi, Milano); Margaret Murata, musicologa (University of California, Irvine); Maria João Albuquerque, musicologa e bibliotecaria (Área de Música da Biblioteca Nacional de Portugal).
Il 15 ottobre alle ore 19,00 si terrà, presso il Palácio Fronteira, un concerto organizzato da Cristina Fernandes (Universidade Nova de Lisboa), dal titolo De Roma a Lisboa: música nos palácios e academias entre os séculos XVII e XVIII eseguito dal Ludovice Ensemble (Eduarda MELO e Joana SEARA, soprano; Fernando Miguel JALÔTO, cembalo).