IMAGE ET DROIT II : l'usage juridique des images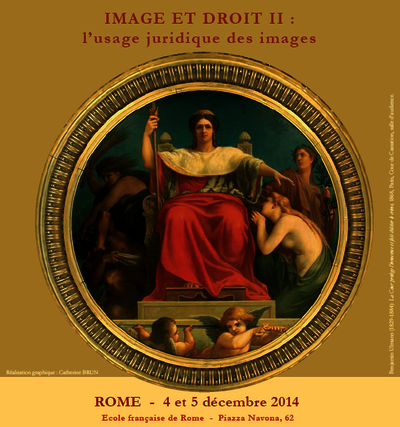 Place and date :
From 12/04/2014 at 16 h 47 to 12/05/2014 at 16 h 47
Le projet Image et droit a pour ambition d'esquisser, à travers trois rencontres, les contours d'une histoire juridique et sociale des images, de leur contexte de production, des affects et des effets qu'elles produisent. La première table ronde «Image et droit» (décembre 2013) traitait du «droit aux images» de l'Antiquité à nos jours.
La deuxième rencontre (Rome, 4-5 décembre 2014) portera plus précisément sur les usages des images par les juristes. En effet, les juristes non seulement légifèrent sur les images, mais ils les utilisent également, tant dans les traités juridiques médiévaux et modernes que dans les palais de justice, dont l'iconographie est abondante jusqu'au XXe siècle.
Comment abordent-ils ou encadrent-ils les artefacts produisant des effets de droit (images protectrices de l'empereur dans l'Antiquité, images infamantes, portraits, sans compter le statut ambigu des armoiries, entre droit et coutume).
Comment les problèmes concrets de la matière, du support et de la forme (image bi-dimensionnelle ou tridimensionnelle) interviennent-ils directement dans la légifération sur les images ? Ce sont ces questions qui jalonneront ces journées.
Téléchargez le programme détaillé en PDF