Il Laterizio nei cantieri imperiali - Roma e il Mediteraneo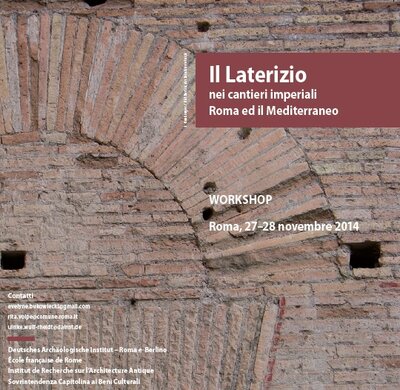 Place and date :
École française de Rome + Museo di Roma in Trastevere
From 11/27/2014 at 16 h 07 to 11/28/2014 at 15 h 04
Questo workshop intende promuovere il dibattito, su scala mediterranea, intorno al materiale di costruzione emblematico dell'architettura antica. Si tratterà in particolare di osservare come il laterizio abbia servito il potere imperiale, come abbia partecipato all'innovazione e alla trasmissione del sapere tecnico romano, come abbia influenzato e determinato l'organizzazione dei cantieri imperiali, com'è stato prodotto e diffuso attraverso l'Impero ed infine, come si è integrato nei processi di romanizzazione.
L'iniziativa del Deutsches Archäologische Institut di Roma e di Berlino, dell'Ecole française de Rome, dell'Institut de Recherche sur l'Architecture Antique e della Sovrintendenza Capitolina ai Beni Culturali nasce nell'ambito di un progetto dell'Excellence Cluster Topoi intitolato "XXL – Monumentalized knowledge. Extralarge projects in ancient civilizations", progetto che prevede tra l'altro una riflessione specifica sui cantieri della Roma imperiale ed in particolare sul Palatino.
Strutturato in cinque sessioni, il workshop è concepito intorno a discussioni aperte e scambi d'informazione; sono invitati ad intervenire non solo gli specialisti partecipanti ma anche gli altri studiosi presenti, al fine di arricchire le riflessioni in corso sul laterizio nei cantieri imperiali.