Fulmen III. Sanctions spirituelles et politique dans la catholicité, du Moyen Âge à nos jours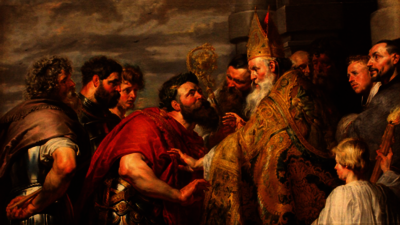 Place and date :
Rome, École française de Rome, piazza Navona 62
From 11/24/2021 to 11/26/2021
Organisation : Julien Théry - Université Lyon 2
Partenaires : CIHAM, CNRS, UMR 5648
COMITÉ SCIENTIFIQUE
Fabien Archambault - Unversité Paris 1 - Panthéon-Sorbonne
Cécile Caby - Paris Sorbonne Université
Magali Della Suda - CNRS/Centre Émile Durkheim, Bordeaux
Vincenzo Lavenia - Università di Bologna
Sylvain Parent - École normale supérieure de Lyon

PROGRAMME
Mercredi 24 novembre - 15h00 - École française de Rome - salle de conférence
Accueil des participants par
Pierre Savy - École française de Rome

Julien Théry - Université Lumière de Lyon
Introduction

Christian Grasso - Istituto Storico Italiano per il Medio Evo
Predicare e scomunicare in nome della Sede Apostolica, inizi XIII secolo

Xavier Hélary - Université Lyon III Jean-Moulin
Croisé ou excommunié ? Le prince Louis en Angleterre, 1216-1217

Alberto Spataro - Istituto Storico Italiano per il Medio Evo
Scomunicare consoli e podestà tra XII e XIII secolo. Problemi e osservazioni a partire da alcuni casi italiani

Michele Pellegrini - Università di Siena
Realtà e narrazione della remissione della scomunica duecentesca nella memoria delle città ghibelline di Toscana
Discussion
Jeudi 25 novembre - 9h15 - École française de Rome - salle de conférence
Raffaele Savigni - Università di Bologna
Scomunica e interdetto a Lucca in età comunale (secoli XIII-XIV) nel quadro dei rapporti politici tra Chiesa e governo cittadino

Ezio Claudio Pia - Crism, Turin
« Magis ad salutem quod ad observationem excomunicationis » : legittimità negoziata e discrezionalità nei rapporti tra Chiesa e Comune (Piemonte meridionale e Asti, secoli XIII-XIV)

Solal Abélès - Université du Luxembourg/LAMOP
Colle interdite : modalités et enjeux d'une sanction ecclésiastique contre une quasi-città toscane (seconde moitié du XIVe siècle)

Discussion

François Otchakovsky-Laurens - Université de Paris
Marseille, XIIIe-XIVe siècle. Les sanctions ecclésiastiques sont-elles politiques ?

Marco Ciocchetti - Università Roma 2 Tor Vergata
« Tradentes eum Satane in interitum carnis ». L'uso delle sanzioni spirituali da parte dei cardinali nella seconda metà del XIII secolo (1261- 1303)

Peter Clarke - University of Southampton
Excommunication for Anti-Clerical Violence. Si quis suadente and Relations between Crown and Church in Later Medieval England

Discussion

14 H 30
Elisabeth A. R. Brown - City University of New York
Guillaume de Nogaret and Anagni : Excommunication and Absolution ad cautelam, and the Transformation of the Past.

Christian Jaser - Universität Klagenfurt
The Practice and Perception of Papal Economic Sanctions in the Later Middle Ages

Discussion

Tobias Daniels - Ludwig-Maximilians Universität, Munich
Interdetti rinascimentali e politica papale

Jean-Marie Le Gall - Université Paris 1 – Panthéon-Sorbonne
De l'usage des censures religieuses dans les Guerres d'Italie

Massimo Carlo Giannini - Università di Teramo
« Egli havea autorità da Roma di scomunicarlo » : Filippo Archinto mancato arcivescovo di Milano, tra interessi curiali e politica imperiale (1555-1558)

Benoît Schmitz - Lycée Fustel de Coulanges, Strasbourg / Sorbonne Université
L'efficace politique des excommunications de souverains au XVIe siècle

Discussion
Vendredi 26 novembre - 9h00 - École française de Rome - salle de conférence
Vincenzo Lavenia - Università di Bologna
Un declino della scomunica ? Il papato e le guerre di inizio Settecento

Jaska Kainulainen - University of Helsinki / University of York
Paolo Sarpi and the interdict of Venice, 1606-1607
Marie-Cécile Pineau - Université de Nantes
« Sa Sainctete demeura en une extreme destresse monstrant a tout le monde l'affliction et la perplexité peintes sur son visaige » : négocier une levée d'excommunication avec les sentiments du pape, l'exemple de l'Interdit vénitien (1606-1607)

Jean-Pascal Gay - Université de Louvain
Louis XIV, Innocent XI et les excommunications de l'affaire des quartiers, ou la faillite du for interne

Discussion

Renata Latala - Univ.ersité de Genève
Pour rester fidèle, faut-il désobéir ? Prescriptions, sanctions pontificales et société polonaise aux XIXe et XXe siècles

Jacques Prévotat - Université de Lille
Les sanctions canoniques dans la crise de la condamnation de l'Action française (1927-1939)

Fabien Archambault - Université Paris 1 – Panthéon-Sorbonne
Une excommunication politique ? Le Saint-Siège et les communistes dans l'Italie de l'après-guerre

Discussion

14 H 45
Dries Bosschaert - KU Leuven, Claire Maligot - IEP de Paris
Les Saint-Office des années Humani Generis. Surveiller et punir à l'échelle du catholicisme global

Annick Lempérière - Université Paris 1 – Panthéon-Sorbonne
La supposée excommunication de Juan Peron : les enjeux politiques de sa réalité ou non-réalité

Magali Della Sudda - CNRS, Centre Émile Durkheim, Bordeaux
Un abbé chez les Gilets jaunes. Sanctions ecclésiastiques et politisation des engagements cléricaux dans la contestation des Gilets jaunes (2018-2020)

Discussion

Agostino Paravicini Bagliani - SISMEL
Conclusions
Contacts
Secretariat des études médiévales : secrma(at)efrome.it
Informations pratiques
En raison des consignes sanitaires,
le nombre de place est limité et sous inscription à
www.eventbrite.it/e/biglietti-fulmen-3-207322566377
La conférence pourra être suivie
reunion.efrome.it/b/sec-an7-wln-inf

Scaricare il programma / Télécharger le programme

En savoir plus sur le programme FULMEN