Elites italiane e monarchie europee: circolazioni e reti di potere (sec. XVI-XVIII)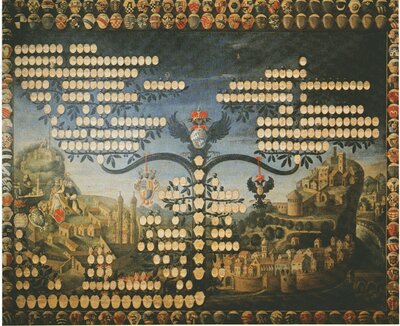 Place and date :
Rome, École française de Rome
From 04/16/2018 to 04/20/2018
En accueillant des spécialistes d'histoire de la famille, cette seconde rencontre du programme ELITESIT s'intéresse à la manière dont les liens familiaux (filiation, fratrie, alliance, parrainage…) peuvent être mobilisés par les acteurs et les groupes sociaux pour constituer des réseaux utiles au lignage et à son insertion dans les mondes curiaux. En effet, d'un côté, la dimension "transnationale" des familles est souvent abordée à travers des études de cas particuliers. D'un autre côté, l'analyse des structures de la parenté et le rôle de celle-ci sont restés longtemps centrés sur les questions de transmission des biens. L'objet de cette rencontre est de saisir le "capital social" qui peut aussi circuler et être mobilisé en réfléchissant aux questionnements, méthodes et sources pour appréhender celui-ci. Dans quelle mesure l'analyse de réseau peut-elle contribuer à renouveler la traditionnelle étude des généalogies ? Comment dégager les stratégies familiales mises en œuvre dans ce domaine de manière comparative et à différentes échelles (locale, régionale, transnationale)?
Après la présentation du programme Fichoz Actoz, créé par J.-P. Dedieu, la seconde journée poursuivra la construction de la base de données sur les élites italiennes. Dans cette perspective, les différents groupes effectueront un état des travaux réalisés ou projetés et une présentation de leurs sources. Les trois derniers jours seront enfin consacrés à une formation informatique au programme Fichoz qui constituera le support numérique pour la réalisation du projet.
Accogliendo specialisti di storia della famiglia, questo secondo incontro del programma ELITESIT riguarda il modo nel quale i legami familiari (filiazione, fratria, alleanza, padrini…) possono essere utilizzati dagli attori e dai gruppi sociali per costituire delle reti utili al lignaggio e alla sua inserzione nei mondi curiali. Da un lato, infatti, la dimensione « transnazionale » delle famiglie è stata spesso affrontata attraverso studi di casi specifici. Dall'altro, gli studi sulle strutture della parentela e il ruolo di questa sono stati a lungo centrati sulle questioni di trasmissione dei beni. Lo scopo di questo incontro è di afferrare il « capitale sociale » che può anche circolare ed essere utilizzato, esaminando le questioni, metodi e fonti per comprenderlo. In quale misura l'analisi di rete può contribuire a rinnovare lo studio tradizionale delle genealogie ? Come raggiungere le strategie familiari operate in modo comparativo e a diverse scale (locale, regionale, transnazionale) ?
Dopo la presentazione del programma Fichoz Actoz, creato da J.-P. Dedieu, proseguiremmo nella seconda giornata con la costruzione del database sulle élites italiane. In questa prospettiva, i diversi gruppi presenteranno i lavori realizzati o progettati e le fonti usate. Gli ultimi tre giorni saranno dedicati ad una formazione informatica al programma Fichoz di supporto alla realizzazione del progetto.