Cardinaux et cardinalat, une élite à l'épreuve de la modernité (1775-1978)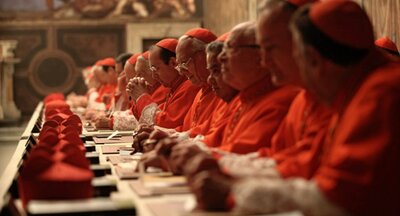 Place and date :
École française de Rome
From 04/16/2015 to 04/17/2015
Si l'actualité place souvent les cardinaux sous les feux des projecteurs et si les historiens s'intéressent régulièrement à certaines figures de « grands » cardinaux, la fonction cardinalice et les logiques internes au corps des cardinaux restent largement méconnus, surtout pour la période contemporaine. Ce projet sur les cardinaux vise à combler cette lacune historiographique.
Après une première rencontre à Paris en juin 2014 (consacrée aux sources, aux méthodes et aux différentes approches disciplinaires de ce corps d'élite), cette seconde rencontre à Rome traitera du cardinalat et des cardinaux entre cour pontificale et curie romaine, envisageant en premier lieu les cardinaux en tant que membres et acteurs d'une société de cour puis leurs fonctions au sein de l'ensemble institutionnel de la curie.
Télécharger le programme en pdf