Présentation de l'ouvrage "La politique russe du Saint-Siège"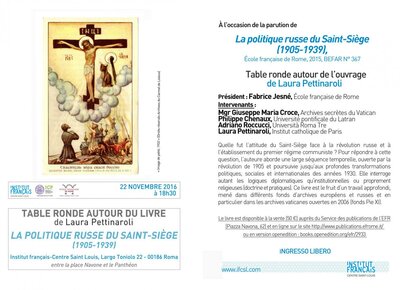 Category :
La recherche Publications
Place and date :
Rome
The 11/22/2016 from 19 h 30 at 21 h 00
A l'occasion de la parution du livre La politique russe du Saint-Siège (1905-1939)
Table ronde en présence de l'auteure Laura Pettinaroli
Entrée libre

Mardi 22 Novembre - 18h30 Institut français Saint Louis, Médiathèque, Largo Toniolo, 22
Table ronde autour du livre de Laura Pettinaroli, La politique russe du Saint-Siège (1905-1939), Rome, École française de Rome, 2015, 937 p. BEFAR N° 367
Président : Fabrice JESNÉ, École française de Rome
Participants :
Mgr. Giuseppe Maria CROCE, Archives secrètes du Vatican
Philippe CHENAUX, Université pontificale du Latran
Adriano ROCCUCCI, Università Roma Tre
Laura PETTINAROLI, Institut catholique de Paris
Quelle fut l'attitude du Saint-Siège face à la révolution russe et à l'établissement du premier régime communiste ? Pour répondre à cette question, l'auteure aborde cette révolution dans une large séquence temporelle, ouverte par la révolution de 1905 et poursuivie jusqu'aux profondes transformations politiques, sociales et internationales des années 1930. Elle interroge autant les logiques diplomatiques qu'institutionnelles ou proprement religieuses (doctrine et pratiques). Ce livre est le fruit d'un travail approfondi, mené dans différents fonds d'archives européens et russes et en particulier dans les archives vaticanes ouvertes en 2006 (fonds Pie XI).
Le livre est disponible à la vente (50 €) auprès du Service des publications de l'EFR (Piazza Navona, 62)
et en ligne sur le site http://www.publications.efrome.it/
ou en version openedition : http://books.openedition.org/efr/2933?lang=fr

En savoir plus sur le site de l'Institut français Saint Louis →