La norme et le monde. Savoirs normatifs et normativité des savoirs au XVIe siècle
Appel à candidature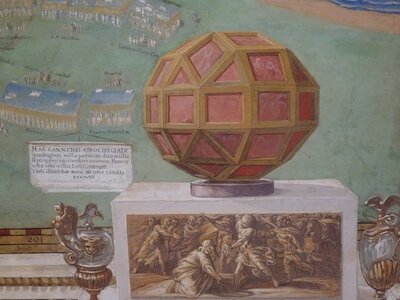 École d'été
Deadline for submissions :
04/10/2023
Date of entry into service :
09/11/2023
Trente et Venise, 11-16 septembre 2023
Organisée dans le cadre du programme MONDO500. Le monde dans une péninsule, espaces urbains, présences étrangères, économies des savoirs dans l'Italie du Cinquecento (École française de Rome, CAK, LARHRA, Triangle, Labex CoMod), en collaboration avec l'Università di Trento et le Max Planck Partner Group "The Production of Knowledge of Normativity and the Early Modern Book Trade".
Comité scientifique : Elisa Andretta (CNRS, LARHRA), Manuela Bragagnolo (Università di Trento, MPILHLT), Romain Descendre (ENS de Lyon, Triangle), Antonella Romano (EHESS, CAK).
Légende illustration : Galerie des cartes, Musées du Vatican, détail © Antonella Romano