Quarta guerra punica. La fraternità nel vortice del razzismo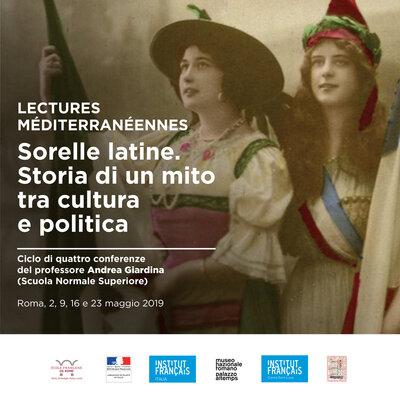 Category :
La recherche Ressources multimedia
Place and date :
Roma, Fondazione Primoli
The 05/23/2019 from 20 h 00 at 21 h 00
Giovedì 23 maggio 2019 alle ore 18.00
presso la Fondazione Primoli (Via Zanardelli, 1)
si terrà la quarta e ultima conferenza del ciclo
Sorelle latine. Storia di un mito tra cultura e politica
di Andrea Giardina (Scuola Normale Superiore di Pisa)
La nozione di "sorelle latine" è ampia e riguarda tutti quei paesi che hanno riconosciuto, in un momento o in un altro della loro storia, un legame particolare fondato sulla condivisione della discendenza etnica e della cultura latina come tratto significativo della loro identità: in particolar modo l'Italia, la Francia, la Spagna, il Portogallo, la Romania, oltre ai paesi della cosiddetta America Latina.

Sono frequenti gli accenni al mito delle "sorelle latine" in ambito saggistico e giornalistico come ad esempio nella recente crisi diplomatica tra Francia e Italia. Tuttavia l'argomento non è stato mai oggetto di un approfondimento storico complessivo. Le quattro conferenze del professore Andrea Giardina, che ha curato recentemente la Storia mondiale dell'Italia, cercheranno quindi di individuare gli aspetti principali della nozione di "sorelle latine" la cui storia si sviluppa tra l'età
Nella quarta conferenza il professore Andrea Giardina parlerà di:
Quarta guerra punica.
La fraternità nel vortice del razzismo
Conferenza finale di Andrea Giardina che ci racconta la storia sincopata di una tragica separazione: tra incerti tentativi di avvicinamento e accelerazioni contrarie, il fascismo celebra il sodalizio ideale e militare con la Germania nazista contro le democrazie decadenti e corrotte, e la sorellanza latina naufraga nel culto della razza. Nel secondo dopoguerra il mito delle sorelle latine divorzia dalla politica e si limita a rifornire stanche retoriche, titoli dei quotidiani, una episodica festosità.
Ingresso libero fino ad esaurimento posti.
La conferenza si terrà in lingua italiana.
In partenariato con:
Ambasciata di Francia in Italia
Institut français Italia
Museo nazionale romano
Institut français – Centre Saint-Louis
Fondazione Primoli
Scaricare:
Voir la conférence :
Si le lecteur vidéo ne s'affiche pas ci-dessous, vous pouvez voir la conférence sur Youtube