Il maggio dei libri: "Comme des anges sur terre" di Sylvie Duval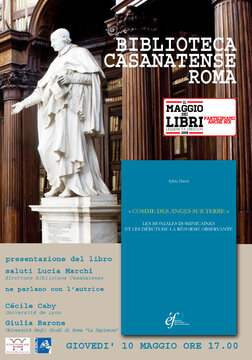 Category :
La recherche Publications
Place and date :
Rome
The 05/10/2018 from 19 h 00 at 20 h 30
giovedì 10 maggio 2018 ore 17.00
Biblioteca Casanatense, via S. Ignazio, 52, Roma
Nell'ambito del Maggio dei Libri, presentazione del volume:
Comme des anges sur terre: les moniales dominicaines et les débuts de la Réforme observante di Sylvie Duval. Roma, École française de Rome, 2015
"Le monache domenicane, ispirandosi soprattutto all'insegnamento di Caterina da Siena, a partire dal 1385 cominciano la loro riforma, che si traduce in una riaffermazione del loro ruolo contemplativo in seno all'Ordine dei Predicatori e soprattutto nell'elaborazione di norme molto severe riguardo la clausura, percepita come la manifestazione visibile della loro totale consacrazione a Dio. L'esempio delle monache domenicane permette una doppia riflessione sulla Regola. ...".